Keep Tabs on Social Media Accounts with HubYard

Productivity Sauce
Feb 25, 2015 GMT
Twitter, Tumblr, RSS, YouTube, Instagram -- there is a myriad of sources that compete for your attention. To make matters worse, each service wants you to use its own app or website, so things can quickly get out of hand if you need to keep up with all your social media services. Enter HubYard -- an open source platform for aggregating and managing social media accounts.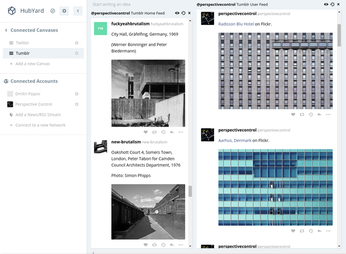 HubYard's concept and implementation bear a lot of similarities to existing commercial social media aggregators like HootSuite. You can link your social media accounts to your HubYard profile and use the application's features to read and manage streams. The current list of supported services includes the usual suspects like Twitter, Tumblr, YouTube, Instagram, Facebook Pages and a few others. HubYard can also manage RSS feeds, so even if social media are not your cup of tea, you can still use the application as a regular RSS aggregator. To manage multiple sources, HubYard lets you create canvases, or boards, which you can populate with panels containing different streams. For example, you can create separate canvases for RSS feeds and Twitter streams. The text area in the upper-left corner of each panel can be used to post updates to social networks. But it seems that only posting to Twitter is currently implemented, though.
HubYard's source code (sans certain proprietary parts like Google Analytics and DataStack) is available on GitHub, so you can host it on your own server, or tweak and improve the application to your heart's content.
comments powered by

Disqus

Issue 272/2023
Buy this issue as a PDF
Digital Issue: Price $12.99

(incl. VAT)