photoDiary: Web-based Photo Album with a Twist

Productivity Sauce
Apr 20, 2010 GMT
Although photoDiary looks like just another Web-based photo album application, it has a couple of nifty features that make it a good choice for hosting and showcasing your photographic masterpieces. For starters, photoDiary is rather straightforward to deploy. Grab the latest release of the application, unpack the downloaded archive, rename the resulting directory to photodiary, and copy it to your server's root. Point then your browser to http://yourserver/photodiary/admin/install.php, and an easy-to-follow wizard guides you through the rest of the installation process. Once photoDiary has been installed, navigate to http://yourserver/photodiary/admin and log in using the credentials specified during installation. The first thing you should do is to populate photoDiary with photos. Press the New Shot button, select the photo you want, specify a date and description for it, tick the Publish check box, and hit Update. Unfortunately, photoDiary doesn't support batch upload, so you have to add your photos one-by-one. By the way, it might be a good idea to resize your photos before you upload them to photoDiary.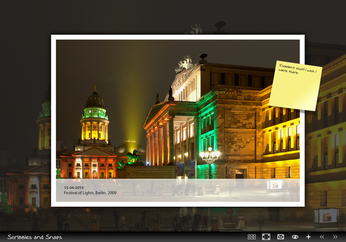 photoDiary uses a slick Flash-based interface for displaying your photos. You can browse the photos, view them in full-screen mode, and comment on them. The latter feature is what makes photoDiary so special. Instead of plain conventional comments, photoDiary allows your visitors to attach sticky notes directly to the photo. Of course, looking at a photo plastered with yellow sticky notes is not a particularly pleasant experience. That's why photoDiary provides a button that lets you hide all the notes. And you can manage all the comments in the administrative section of photoDiary.
photoDiary won't replace a full-blown photo album application like Gallery, but if you want to share a few shots from your latest trip with your friends and family, photoDiary will do the trick.
comments powered by

Disqus

Issue 268/2023
Buy this issue as a PDF
Digital Issue: Price $12.99

(incl. VAT)