An intuitive, cross-platform ebook reader
Koodo Reader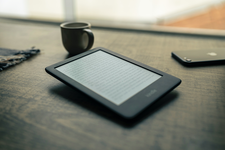 The Koodo Reader features an intuitive interface and customizable display options, making it a serious contender in the Linux ebook reader space.
Linux has no shortage of ebook readers. However, most have a minimal feature set like Okular or else a needlessly complicated interface like Calibre. Either way, compared to the interfaces on Kindle or Kobo e-readers, the interfaces tend to be unsatisfactory. A notable exception is Koodo Reader. Drawing on the features of e-reader interfaces, and, possibly, sites like Goodreads, Koodo offers a clean, intuitive interface with detailed features and display options either implemented or planned in upcoming releases.
Koodo Reader has yet to reach the repositories of major distributions, but the Linux version is available from the web page in AppImage, DEB, RPM, and snap formats for 38 different languages. If you download the AppImage or snap format, you may need to change the file permissions to make it executable. In all versions, if you choose to store files on another machine, or in a location other than the default (.config/koodo-reader/uploads/data in your home directory), you will need to enter the full path in the settings. Optionally, you can also use the Setting menu to customize the default display and behavior.
The Main Page
Koodo Reader opens in a catalog of uploaded books displayed in card mode (Figure 1). In the upper right corner, you can change the display mode from card to the plainer list mode or to cover mode if uploaded items have a title page. The default display is set to Books, but in the left-hand margin, you can also choose to display Favorites, Notes, and Highlights (highlighted passages), as well as Trash. As the number of uploaded books increases, the search field becomes convenient. You can also change the sort mode, using such criteria as Title, Author, or Reading Progress, and arrange books on shelves, like on the Goodreads site. However, in the latest release, you cannot add your own shelves. Right-clicking on any item also opens controls, as well as information about the file (Figure 2). Assorted features can also be enabled from the Setting menu (Figure 3).
Using the Import or Sync button, items can be uploaded in a number of formats, including standard formats such as .epub, .pdf, .djvu, .azw3, .mobi, .txt, and .docx – somewhat fewer options than similar applications like Calibre, but usually enough for most purposes. The only major format missing is LibreOffice's .odt, perhaps because .docx has a higher priority for the developers since it is a more widely used format. However, .odt files can easily be imported to .pdf or .docx, so the omission is not that serious. Each format is color-coded, with, for instance, blue for .epub, green for .pdf, and purple for .docx. Regardless of format, right-clicking on a book opens a display of details from which it can be exported, edited, or deleted.
The Reading Window
Clicking a book opens the reading window. Unlike most readers, including those on e-readers, Koodo defaults to a two-page spread, a choice that makes the most efficient use of space on a widescreen monitor and resembles the experience of reading a hard-copy book. The basic display is as simple as possible, with only a previous and a next button (Figure 4).
However, mousing over the window reveals more controls (Figure 5). Dragging the mouse towards the top side of the window opens a window with buttons for exiting, bookmarking, and a full-screen display. Similarly, dragging towards the left side of the window reveals the table of contents and a search field, while dragging the mouse towards the bottom of the window opens a progress indicator that contains a slider bar that can be dragged for quick movement between pages.
The icon at the top right allows the most customization. Pausing the mouse on the icon displays all of the sliding controls together. More importantly, dragging down on the icon displays reading options similar to the ones found on an e-reader, but more numerous. As on an e-reader, Koodo can alter font size, line spacing, alignment, and margins. However, with access to a workstation's fonts, it has more options for font display. In addition, unlike e-readers, Koodo can change the foreground color and, after a reboot, the background color, or invert foreground and background. In addition, the space between paragraphs, the choice of Simple and Traditional Chinese characters, and the display of font features like bold, italic, underline, and shadow can all be customized. Still other options include single page and scroll display and the suppression of each of the slide-in displays.
Documentation and Roadmap
Most of these features are not unusual or hard to understand. However, Koodo is one of the few ebook applications – possibly, the only one – to offer such a complete feature set. Should you run into any difficulties, the project has a documentation page that, among other items, explains how to sync Koodo with stored book locations, to store books offsite, and to use the currently brief list of keyboard shortcuts. A few small function limitations and troubleshooting hints are also available.
Currently at version 1.5.1, Koodo Reader is already highly usable. In fact, this version has controls that would benefit my Kobo Forma e-reader, so much so that I would upload it if I could. However, Koodo remains a work in progress. The website includes a page detailing future development plans (Figure 6). According to the page, features in development include password protection, keyboard shortcuts, and support for audio formats, plus over a dozen others. Features planned but not yet developed include support for more ebook formats and Android, as well as conversion between formats. The page warns that this roadmap is a wish list and not all improvements may be practical. However, within a couple of years, Koodo might well surpass other options, including Calibre, the most popular choice to date. For now, Koodo is a serious contender for all except the most demanding readers.
comments powered by

Disqus
---
Support Our Work
Linux Magazine content is made possible with support from readers like you. Please consider contributing when you've found an article to be beneficial.
---