Literature management with Zotero
Installing Citation Styles
The citation style determines the appearance of the source references in the text and the bibliography. This includes whether literature references are in brackets or appear as footnotes, whether the author's name is formatted in small caps or the title is in italics, whether commas or periods separate individual elements, and more.
In the default installation, Zotero brings several citation styles, including Chicago Manual of Style 17th Edition (author-date) and Chicago Manual of Style 17th Edition (note). These two multilingual citation styles are suitable for many subjects. However, you can install additional styles from Zotero's citation style database, which now includes many thousands of styles, or create your own.
To install a new citation style, go to Zotero's preferences, switch to the Cite tab, and select the Styles option. Below the style manager, click Get additional styles… . This opens the Zotero Style Repository, which allows you to search for new styles (Figure 5).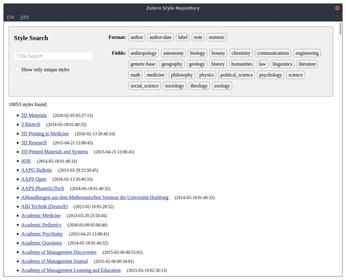 Type a search term in the box at top left, or click on one or more of the keywords you see on the right. Below that, Zotero lists the styles it found. Mouse over one of the styles, and you will see a preview of the citation style. Click on the desired entry to apply the style.
You can preview the installed citation styles directly in Zotero. Select multiple entries that represent different publication types, for example, a journal article and a book. Then, in Zotero Settings, switch to the Cite tab, and click Style Preview. In the preview window (Figure 6), click Refresh in the upper left corner to create the preview.
Customizing Citation Styles
If you can't find a citation style that exactly suits your needs, find a similar style and edit it, for example, by pulling in elements of another style. Zotero uses the Citation Style Language (CSL) to describe citation styles; this is a variant of the XML markup language that is also used by other literature management programs. For experienced programmers, CSL is a largely self-explanatory programming language. However, with a little application, you can edit citation styles, and even create new ones, without any knowledge of programming or XML. The CSL documentation and command reference can be found in the specification [7].
Conclusions
The advantages of Zotero are obvious: The free tool makes it easier to keep track of your research and eliminates a lot of typing and formatting work. Support for some catalogs is not yet perfect, and creating a new citation style can be challenging. Nevertheless, Zotero comes across as a professional, mature, and easy-to-use literature management program that stands up well against its commercial competitors.
comments powered by

Disqus
---
Support Our Work
Linux Magazine content is made possible with support from readers like you. Please consider contributing when you've found an article to be beneficial.
---