Alitheia: The Truth about OSS Quality Goes Alpha
Jul 21, 2008
Alitheia is a platform for automated evaluation of software projects. Version 0.8.1, which has jst been released, is described by the developers as the first usable alpha version. Core functionality is available, however, some work on execution and individual customization is still required.
The software collects metadata on projects from mailing lists, repositories, source code and bug databases. The data is processed in line with specific criteria and then – in the simplest case – evaluates any new code added, the contributions by individual developers, or the number of bugs. To keep Alitheia extensible, metrics are implemented as plug-ins. The Alitheia download package stores plugins in a separate directory where each plugin is a separate code unit.
An online demo of the project is available to give users an initial impression of how the tool works. Alitheia was sponsored by EU funding and is released under the a BSD license.
A quick inspection of the download file reveals that the developer consortium has organized and documented the software (which is written in Java and C) thoroughly. The readme in the download file's root directory gives users an overview by describing the Alitheia installation on three systems: the back-end, which collects data for the project to be evaluated, the platform itself ("Alitheia Core"), which uses metrics in the form of plugins to process the data, and the graphical front-end as the user interface. Tips on building and installing, configuration and management, and on developing Alitheia are included in the form of readme files. The project website also has tutorials on administration and use, as well as API documentation with descriptions of classes and functions.
The name Alitheia is Greek for "truth". The project's goal is no less than providing scientific evidence of the quality of open source software. it will help developers monitor and improve quality, and thus improve acceptance of open software in general. According to the project's about pages, a list of open source projects sorted by measured quality is planned. The test phase sees the project, which was launched in 2006 with a two-year development roadmap enter its final phase. According to the announcement published here the project welcomes help from the community.
The zipped tarball download weighs in at 40MB. The download page, documentation and mailing lists are grouped on the project website. For more information on the objectives and progress made by the project, visit the official .eu website which provides documentation of the results, the project description, and the project contract (PDF, 1MB) less some confidential information. KDE e.V., an Alitheia co-developer, has its own page describing the metrics that it uses for the KDE project, and stating that this has allowed it to remove gaps in the API documentation.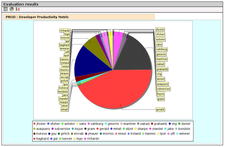 Alitheia: Shedding light on open source software development. How busy have the individual Wireshark developers been?
comments powered by

Disqus

Issue 268/2023
Buy this issue as a PDF
Digital Issue: Price $12.99

(incl. VAT)