Debian: 14 Seconds to Boot
Nov 14, 2008
An article from the Debian-Administration.org community describes how to boot up Debian much faster on an Asus Eee 901. Its author, Phil Endecott, claims to do it within 14 seconds using his method.
Endecott is still far from the record of five seconds set by his role models Arjan van den Ven and Auke Kok (video here). The two Intel developers had started the same device under Fedora and Linux Moblin at September's Plumbers Conference. Even so, Endecott presented a number of programs and measures to significantly speed up the Debian bootup process. Some of them are specific to the Asus Eee, but others are transferable to other Linux systems.
Work begins with diagnosing the ist status with help from Bootchart (available as a Debian package) or Bootgraph. The result: from Grub to opening the xdm login dialog takes 33 seconds.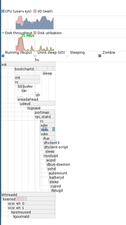 The first measure, therefore, is to reduce the Grub timeout to a minimum, get rid of any unused tasks and boot up with the highest CPU frequency (wherever possible).
Kernel tuning is the next step at speeding things up. Here a kernel lacking initrd or initramfs and with compiled hardware drivers comes into play so as to eliminate the time sink of loading kernel modules. The article also alludes to some brand-named kernel patches that are supposed to save time, among them a patch from Arjan van den Ven.
As a rule, even coldplugging, in which udev enumerates all the devices at boot time, contributes to the time sink. In the "Eliminating coldplugging" section of his article, Endecott presents a script which prevents udev intrusions in subsequent bootups.
Further measures include disk read-ahead, either through Debian's own package or through Super ReadAhead, albeit with no great time savings. Even Debian setting the system clock (twice) with hwclock takes some time, for which Endecott has a countermeasure. He starts X a bit sooner than is standard with Debian, and starts networking later than usual. The combined result: 19 of the 33 seconds saved.
Endecott's article goes into much greater detail, including configuration data, scripts and boot diagrams to download. He hopes that Debian developers might pick up on some of these tuning tips, possibly enhancing them and including them in distros. He hopes also to satisfy users who don't have kernel experience or other access to the innards of the system.
comments powered by

Disqus
---
Support Our Work
Linux Magazine content is made possible with support from readers like you. Please consider contributing when you've found an article to be beneficial.
---