System76 Announces a Line of US-Made PCs
Nov 12, 2018
Thelio series is available for pre-order and will ship in early December.
System76, one of the few vendors that sells Linux PCs, is launching a series of computers that the company says is "made in the US." Although some of the elements within the system are imported, System76 says the Thelio desktop series goes beyond mere assembly and that the system is actually manufactured on American soil.
"We've seen it argued that this isn't US manufacturing because every part isn't made in the US. If we sourced every part externally, this would be called "assembled in the US." That's not what we're doing here. We're transforming raw materials into a final product," System76 said in a blog post.
There are three members of the Thelio family: entry-level Thelio that comes with Ryzen or Core CPUs, up to 32GB of RAM and is priced at $1099. Thelio Major is powered Threadripper or Core-X CPUs, and can pack up to 128GB of Memory; the base price is $2,299. The biggest member of the family is Thelio Massic that's powered by dual XEON CPUs, you can get up to 768GB of ECC Memory and up to 86TB of Storage; its priced at $2,899.
System76 has created its own Ubuntu-based OS that runs on their hardware, it's called Pop!_OS. Building their own OS allowed System76 to optimize the performance.
System76 has designed their own chassis controller and hard drive backplane, called Thelio Io, that moves proprietary functionality from the mainboard to the open source Thelio Io 'daughterboard'.
"Moving chassis and thermal control to Thelio Io enables far more granular performance optimization. Motherboard data, fan speed, and GPU and OS data are used to coordinate optimal airflow," claimed System76.
Thelio Massive also includes an open source System76 designed SAS backplane for high performance 2.5" PCIe storage.
System76 has released its own parts of the hardware and software work into open source. Thelio hardware is certified by Open Source Hardware Association (OSHWA) and licensed under the GPL v3 and CC-BY-SA.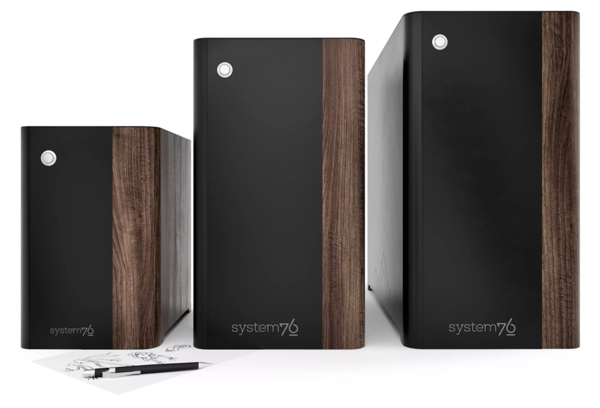 comments powered by

Disqus

Issue 269/2023
Buy this issue as a PDF
Digital Issue: Price $12.99

(incl. VAT)