Issue #260 / Jul 2022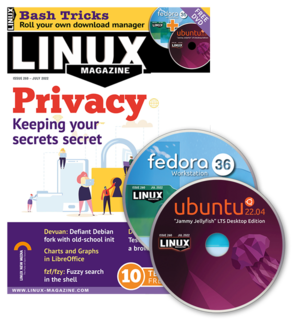 DVD: Ubuntu 22.04 and Fedora 36
Approximate on sale dates:
UK/Europe: Jun 04
USA/Canada: Jul 01
Australia: Aug 01
Highlights:
If you are really serious about privacy, you'll need to lean on more than your browser's no tracking button. Those who need anonymity the most depend on the Tor network – a global project offering safe surfing even in surveillance states. We also look at Portmaster, an application firewall with some useful privacy features.
The New Boss
As this magazine goes to press, Elon Musk, who is attempting to buy Twitter, has announced that, once he ascends to the helm of the micro-blogging colossus, a certain politician who was previously banned from the platform will be let back in. I'll pop in with my usual disclaimer: We talk about tech here, not politics.
Ubuntu 22.04 "Jammy Jellyfish" LTS Desktop Edition and Fedora 36 Workstation
In the news: Danielle Foré Has an Update for elementary OS 7; Linux New Media Launches Open Source JobHub; Ubuntu Cinnamon 22.04 Now Available; Pop!_OS 22.04 Has Officially Been Released; Star Labs Unveils a New Small Format Linux PC; and MX Linux v21.1 "Wildflower" Now Available.
Zack Brown reports on taking a header and the next Spectre vulnerability.
Manage Internet uploads with Portmaster
Security and anonymization play an increasingly important role on the Internet due to the endless appetite of Internet companies for personal data. Portmaster and the Safing Privacy Network will help you protect your privacy – even if you're not a security expert.
The Tor Network: Tools for private and secure browsing
The Tor project supports a formidable collection of tools for protecting your privacy on the Internet. We'll give you some background on Tor and help you get started with the Tor Browser.
The fight for Init Freedom
Devuan, with its promise of Init Freedom, provides users an alternative to systemd as an init process.
Tracking school information with AlekSIS
In many classroom settings, paper grade lists and the good old class register are still the rule. The AlekSIS project offers a 21st century solution for small schools that want to go digital.
Locking down the Thunderbolt interface
The Thunderbolt interface supports extremely fast data transfer rates, but be careful about what you plug into your port, because Thunderbolt devices access memory directly. We'll show you some Linux tools for locking down your Thunderbolt interface.
A download manager for the shell
A few lines of shell code and the Gawk scripting language make downloading files off the web a breeze.
Your NAS isn't enough – you still need to back up your data!
Some users trust their data to powerful file servers that advertise enterprise data protection, but your Network Attached Storage system might not be as safe as you think it is.
A modern terminal emulator
Kitty, a terminal emulator by the creator of Calibre, promises customization and graphical acceleration at the command line.
Launching distributions from a browser
With so many Linux distros to choose from, you can spend a lot of time downloading and installing before you find the right one for your needs. DistroTest.net lets you test a variety of Linux distributions from the browser without the up-front installation work.
Exploring the BlueSpice wiki tool
Keep your team collaborating with BlueSpice, a wiki tool focused on professional customers.
Transform web pages into EPUB files
Instead of relying on a third-party read-it-later service, you can use this DIY tool to save articles from the Internet in a format that meets your specific needs.
Boost your Wordle streak with Go
Wordle, a simple online word game, took the world by storm in February. Mike Schilli has developed a command-line tool to boost his Wordle streak using some unapproved tactics.
Create a digital spirit level with the ESP32
The small MPU6050 sensor contains a gyroscope and an accelerometer, which means that you can build a digital spirit level with it.
Change internal logic from relays to an Arduino
An electronic project at a local science center was showing its age, calling for a refresh: in this case, rebuilding it almost from scratch with an Arduino instead of relays.
This month in Linux Voice.
Local tools for better service
Tools such as community servers and local web traffic caches can help improve community Internet service.
Use fzf and fzy to add fuzzy search tools to the shell
Fuzzy finders retrieve useful results from data streams even if there are no exact matches.
A Plex alternative
Dim, a relatively new open source media manager, looks to implement the appearance and feature set of the commercial Plex media center.
Sparkling gems and new releases from the world of Free and Open Source Software
Graham looks at TerraForge3D, nheko, Navidrome, ddcutil, and much more!
Creating charts with LibreOffice Calc
Everybody needs charts sooner or later, and LibreOffice Calc is the easiest way to create them with free and open source software.

Issue 261/2022
Buy this issue as a PDF
Digital Issue: Price $12.99

(incl. VAT)