Issue #265 / Dec 2022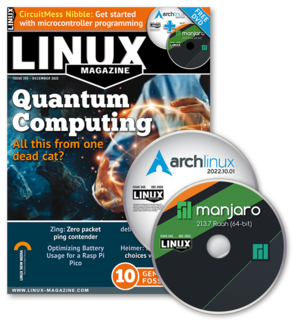 DVD: Manjaro 21.3.7-220816 and Arch Linux 2022.10.01
Approximate on sale dates:
UK/Europe: Nov 05
USA/Canada: Dec 02
Australia: Jan 02
Highlights:
Most Linux users know that this futuristic technology leverages the weird power of quantum mechanics. But how does it really work? What can I do with it? Are there tools available today that will help me experiment? This month we take a deep dive into quantum computing.
Betta Get Betta, Meta
When Facebook renamed itself Meta in honor of its new vision of a virtual reality metaverse, I knew they were taking their initiative very seriously. I will admit, though, it was a little difficult to figure out what they were talking about.
Manjaro 21.3.7-220816 and Arch Linux 2022.10.01
In the news: TUXEDO OS; Native GPU Driver for Apple Silicon; Linux Kernel 6.0; System76 Skips Pop!_OS 22.10 to Focus on COSMIC Desktop; New Look for System76 Thelio; Ubuntu Software Store Rumored to Replace Gnome Software; and a New Arch-Based Linux Distribution.
Chronicler Zack Brown reports on the little links that bring us closer within the Linux kernel community.
An introduction to quantum computing
The peculiar world of quantum mechanics points the way to a whole new kind of computer. If you're wondering how quantum computers work, we'll give you an inside view.
Qiskit – Practical open source framework for quantum computing
Qiskit is an open source framework that aims to make quantum computing technology both understandable and ready for production.
Running with the Pack
Not just one operating system, Puppy Linux is a diverse collection of lightweight operating systems designed for efficiency.
Tracking command history across multiple computers
Atuin adds some handy queries to the shell history function, while letting you synchronize your command history across the network.
Easy access to third-party software with deb-get
Deb-get gives Debian and Ubuntu users easy access to third-party software.
Replacing history with McFly
McFly improves on the venerable history command with a customizable interface and contextualized results.
Organizing photos by date with Go
In this issue, Mike conjures up a Go program to copy photos from a cell phone or SD card into a date-based file structure on a Linux box. To avoid wasting time, a cache using UUIDs ensures that only new photos are transferred.
IN-DEPTH: Zing
Introducing the Zing zero-packet network utility
Zing is a lightweight, zero-packet network utility similar to ping that provides ping functionality without the payload.
Easy entry to microcontroller programming
The Nibble kit by CircuitMess is a freely programmable mobile game console that makes getting started with microcontroller programming a breeze.
Optimize battery use for the Raspberry Pi Pico
The Raspberry Pi Pico's high-performance chip is trimmed for I/O and does not try to save power. However, a few tricks in battery mode can keep it running longer.
This month in Linux Voice.
Language "efficiency"
The efficiency alone of a programming language doesn't show the full picture.
Innovative Linux Package Managers
The traditional package management systems on Linux are now somewhat outdated, but AppImage, Flatpak, and Snap see some interesting new management systems enter the fray.
Representing paint molecules with JChemPaint
Drawings of molecules can be made with a graphics program like Inkscape. But structural formulas turn out even better if you use the JChemPaint professional molecule editor.
After vowing to not be impressed by AI-generated images, Graham has spent this month communing with Stable Diffusion like it's some locally installed oracle or prophet of truth.
Structure your ideas with Heimer mind maps
Mind maps help you organize your thoughts and ideas in a clear-cut tree structure. Heimer can help you draw those trees.

Issue 266/2023
Buy this issue as a PDF
Digital Issue: Price $12.99

(incl. VAT)