Processing RAW files with RawTherapee
Light and Shade
A click on Lighting opens up a lot of options for changing the brightness and contrast of the image. At the top, you will see the Exp.Correction option. This lets you brighten or darken the image by up to five aperture settings. Light compression removes the highlights. The Tonal value graph gives you more control over light distribution in the image. It consists of a diagonal line that lets you insert editing nodes at any position and modify the values as needed (Figure 2). The RGB histogram is displayed above the image manipulation tool; it shows you how the brightness and color components are distributed in the image.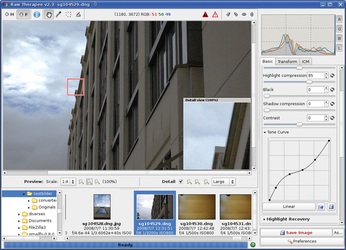 The white and black warning triangles above the main window in the toolbar give you further options for checking the exposure. If you enable them, sections that are too dark show up in white, and sections that are too light show up in black. The Shadow/Lighting section has tools for correcting tonal values of individual sections of the image. Note that you first need to enable this section before you can use the tool. Moving the Shadow slider (Figure 3) tells RawTherapee to lighten areas of the image that are too dark. The same thing applies to Local contrast, which modifies the contrast in a small area.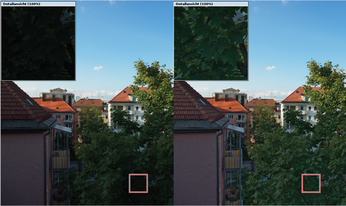 Denoising and Sharpening
Changing brightness values in an image often leads to more noise, although this effect is not as pronounced with RAW files as with JPEGs. The effect can be mitigated by applying the Luminance noise filter. Use the Radius filter to define the intensity at which the filter identifies noise. Edge Tolerance lets you specify to what extent a pixel must differ from its neighbor to qualify as an edge. Although the program has another noise suppressor called Color noise filter, the preview does not work, and I would thus not recommend using it.
The use of noise filters often compromises the sharpness of an image. To counteract this, you can apply the sharpen tool. It offers the methods fuzzy mask and R-L image restoration. For details of how to use the filter check out the PDF Tutorial [4].
Plumb Lines
To align an image vertically or horizontally, click Rotate in the Modify tab. Next, choose Select guideline, hold down the left mouse button, and use the cursor to follow a horizontal or vertical line. The slant of the line is displayed in degrees. RawTherapee will correct the slant to vertical or horizontal when you release the mouse button.
To remove pincushion or barrel distortion, click Deform and drag the slider from the left to the right. With the use of orrect edge lighting, you can correct darker edges. The top slider, Volume, defines the intensity, whereas the bottom slider defines the radius.
comments powered by

Disqus
---
Support Our Work
Linux Magazine content is made possible with support from readers like you. Please consider contributing when you've found an article to be beneficial.
---