FOSDEM 2017
No RISC, No Fun?
Developer Arun Thomas received applause after his statement on RISC-V: People who rely on the instruction set architecture for CPUs no longer need to worry about license fees and complicated contracts, which attorneys negotiated for years.
The project community, originally developed at UC Berkeley, has "modest plans," he joked: They just wanted it to become the "standard architecture for all devices." Certainly, RISC-V is still well away from this target, but at least players in industry and research are supporting the RISC-V Foundation on a wide front. The organization now has more than 130 members including Google, HPE, IBM, Microsoft, Oracle, Nvidia, and Qualcomm.
Modularity is another benefit of RISC-V. The architecture can be used in a versatile way by anything from extremely low cost microcontrollers up to multicore CPU data centers, offering word widths of 32, 64, and even 128 bits.
However, ideas still fly ahead of practical usage; the only boards on sale feature microcontrollers by SiFive, but the odds on that soon changing are not bad given the broad industry support.
Free VR
Away from the mainstream keynotes, visitors experienced numerous meetings of small open source projects in the form of the OpenHMD project [6] (Figure 2), whose employees met in the flesh for the first time at FOSDEM. During a birds-of-a-feather (BoF) session, they sat with their VR devices in a single room, discussed the latest news, and had fun hacking.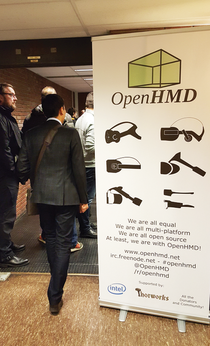 The project is looking to develop free drivers for numerous head-mounted displays (HMDs) for use with Linux. As a charismatic leader, musician and Blender developer Joey Ferwerda ensured a good mood and distributed candy to the developers.
The current results of what are often time-consuming reverse engineering attempts are quite impressive: The project is now gradually starting to support various versions of Oculus Rift [developer kit 1 (DK1) and DK2, consumer version 1 (CV1)], the HTC Vive, Sony's PlayStation VR, and some exotic input devices and head-mounted displays. Intel may contribute its own solution to HMD, a successor model of the Alloy project. Blender will be offering official OpenHMD support in the spring.
Even if it will probably take a while to achieve full hardware support, the project can look forward to an interesting year, and as long as the developers are having fun, schedules are irrelevant, anyway.
comments powered by

Disqus
---
Support Our Work
Linux Magazine content is made possible with support from readers like you. Please consider contributing when you've found an article to be beneficial.
---