Sparkling gems and new releases from the world of Free and Open Source Software
Principled BSDF (in Blender 2.79)
Blender is amazing. It's one of the best examples of what can happen when a community gets behind a project and takes it from uncurated uncertainty to a graphics revolution. The world is now full of students and designers who have forgone the huge entry price of commercial 3D rendering software to master the complex techniques behind 3D design with open source. Blender has opened up what may once have been a niche, exclusive area of computing to a much wider audience – hopefully producing far more innovative content along the way. I get the same warm feeling from using Blender as I did in the late 1980s when Amiga Format gave away Imagine on a cover disk.
However, this isn't about Blender, specifically, but about a new shader that's just been rolled into the latest builds and I hope will be part of the main release by the time you read this. The snappily named Principled BSDF changes everything. Shaders in Blender are used to define how a material looks and how it reacts to the surface and the environment. Typically, you may blend a few together to handle things like specularity and roughness, perhaps tied to image maps and textures. These shaders are pieced together into materials using Blender's crazily powerful node editor, and the results are exceptional. The Principled shader combines much of this functionality within a single module, incorporating each function in such a way that the output is more nuanced and natural than even complex node configurations for all kinds of materials. It's easier to use, less resource hungry, and produces better output, which is why it's going to change everything.
The Principled shader is based on a model developed by Disney for similar reasons and with similar effects, and the character materials in Wreck-It Ralph are a good example of the shader in action. Apart from the visual upgrade, Blender's reimplementation means the shader is also capable of importing and exporting values to Pixar's RenderMan and even Unreal Engine, opening up a new world of professional material design and usage. The basic idea behind the shader is that a series of set effects, including subsurface glow, roughness, specular, metallic, and anisotropy, can all be combined with accurate fresnel, gloss, and built-in roughness. These would otherwise need to be added to your material via nodes in Blender, breaking the natural order of the output. Instead, the Principled shader has a simple slider for each one of these values, making material design as easy as dragging values around until you get a result you like. However, you get much better results by only focusing on a few values; metallic, roughness (the amount of reflection), and one or two others. The results are almost always amazing. Whether a material is metal or matte, skies, or fabric, switching in this new shader and removing your old nodes almost always improves the quality and renders quickly. Blender experts will have exceptions to this rule, but for most of us, the Principled shader finally makes material design quick, easy, and intuitive, which means if you've not used Blender for a while, there's never been a better time to give it another go.
Project Website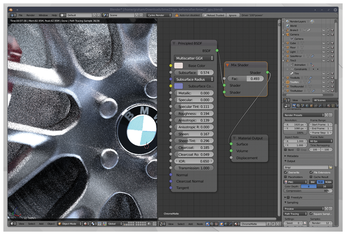 2D space trading
Naev 0.7
Unfortunately, Linux users can't enjoy Elite Dangerous, the sequel to 1980s classic Elite, but there are some alternatives if you're looking for a space trading and combat game with a sandbox feel. Oolite is a great choice if you want 3D graphics, but Naev is another option if you can forgo 3D and use more of your imagination instead. In fact, that doesn't really do Naev enough justice, as Naev is much more than a 2D top-down version of Elite and much more immersive than any open source 2D game has a right to be. This is thanks to it perhaps taking inspiration from Escape Velocity, rather than Elite, from which it inherits ambitions for lore, missions, and background detail. The graphics in particular are beautiful, and the way your ship drips with inertia as you fly around is bliss – much like another 80s classic, Asteroids. Or maybe Blasteroids, as the backdrops of planets and nebulae, along with the atmospheric music and sound effects, really pull you into Naev's universe. The combat is also similar, where you upgrade your ship and attempt to blast your enemies out of the locale, with the screen scrolling and zooming in and out to accommodate the action. But you can avoid all combat if you prefer, or even trading, and simply explore. It's a game where you choose your own adventure. This 0.7.0 release is the first since 2015 and is obviously a major update. In particular, it adds initial support for fleets and asteroids, as well as better screen scaling and more missions. It also runs brilliantly on older hardware, making this one of those games with real depth and longevity that's worth running on old spare computers.
Project Website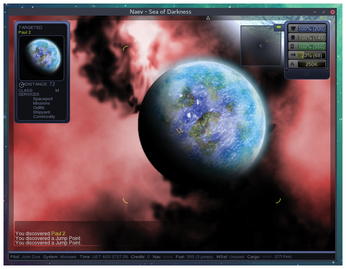 comments powered by

Disqus
---
Support Our Work
Linux Magazine content is made possible with support from readers like you. Please consider contributing when you've found an article to be beneficial.
---