An ergonomic laptop keyboard
Custom Comfort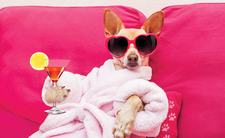 A first for laptops, Keyboardio Atreus offers an ergonomic, portable keyboard with customizable key programming.
Generally speaking, laptops are not designed for typists. On many laptops, the keys are smaller than on a full-sized keyboard. Almost always, laptops use chiclet keys (small, flat squares) that slow typing, take a toll on fingers and hands after a few hours, and can cause serious repetitive stress injuries (RSI) over time. Ergonomic keyboards for laptops simply do not exist. Or rather they did not until recently, when Keyboardio teamed up with keyboard designer Phil Hagelberg of Technomancy to produce the Keyboardio Atreus (Figure 1) [1]. Although not integrated into a laptop frame, this portable USB keyboard is the length of a banana, making it easy to carry. It fulfills the long-ignored need for an ergonomic laptop keyboard – although you might want to change the factory layout to suit your needs.
Keyboardio first gained attention in 2017 with its Model 01 [2], a split keyboard with ergonomic, programmable mechanical keys and backlights mounted on two slabs of maple. Able to go head-to-head with most other keyboards available for sale, the Model 01 outshines all its rivals in terms of sheer beauty. Sadly, the Model 01 is currently out of production, with a more advanced successor not due until the end of 2021, although slightly used ones are still available at just under the original price of $329.
Meanwhile, Keyboardio is selling its modification of Technomancy's Atreus design for $149. Although you might assume that a keyboard is a keyboard, the Atreus and the Model 01 could not be more different in design. True, both are programmable and use high-end mechanical keys. However, in contrast to the maple-mounted Model 01, the Atreus is starkly functional, black plastic, with key mechanisms plainly visible and no backlights. More importantly, keys are mounted on a single platform, instead of on two. In addition, the Atreus's keys are all cut from the same design instead of being individually sculpted like the Model 01's keys. To a certain extent, these differences do seem to lessen the Atreus's ergonomics: In my experience, while I can type for 10 hours on the Model 01, the repetition begins to affect my wrists after about seven hours on the Atreus. However, that is still almost twice the time I can type unaffected on a standard keyboard.
[...]
Use Express-Checkout link below to read the full article (PDF).
comments powered by

Disqus
Visit Our Shop
Direct Download
Read full article as PDF: