Customize your mail environment with the light and powerful Claws Mail
Flexible Claws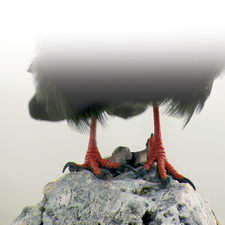 Sharpen your claws on this powerful and highly configurable email client.
Claws Mail [1] started in early 2001 as Sylpheed-Claws, the development version of Sylpheed [2]. Sylpheed-Claws provided a testbed for a handful of enthusiastic Sylpheed contributors and users to test patches. Because many stable and useful features were not finding their way into Sylpheed, Sylpheed-Claws evolved on its own and was later renamed Claws Mail. A small team of enthusiastic programmers continues to develop Claws Mail, which has grown into a robust, user-friendly email client.
Claws Mail is a standards-compliant, desktop-neutral email client and newsreader with a GTK+ interface [3] released under the GPL license. This lightweight mail reader is highly configurable and offers some unique and powerful customization features.
Claws Mail provides message filtering, as well as templates, tags, support for GnuPG, RSS feed reading, HTML rendering, calendaring, and more.
Getting Started
When you run Claws Mail for the first time, the setup wizard provides a short series of dialogs for setting up a POP, IMAP, or Local account. If you have previously used Sylpheed, the wizard will import your settings.
The wizard also includes a special Template feature (described later in this article) that system administrators can use for rapid deployment.
Users will recognize the default look of the main window (Figure 1), which is fairly typical for email clients. The menu bar at the top displays Claws Mail functions. Folders are shown in a column on the left side; the message list appears in the top half of the screen above the current message, and the QuickSearch bar resides beneath the messages. (Claws Mail also offers four other layouts to suit different tastes and screen sizes.)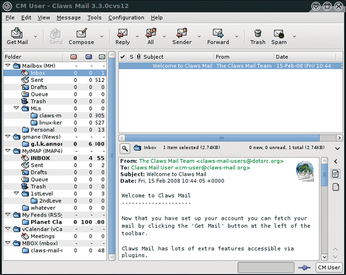 Toolbar
The default toolbar layout allows quick access to all of the common operations, such as fetching, sending, composing, forwarding, and replying to messages. The status bar, which runs along the bottom of the window, shows information about currently running processes, such as mail retrieval and filtering. Buttons for switching between online and offline modes, as well as an account selector, are on the right, along with an attachment column that lets users easily access message attachments.
To fetch new messages, click the Get Mail button on the toolbar. Claws lets you check incoming messages for spam with one of the anti-spam plugins, and you can filter and sort the messages into subfolders.
If you would rather not click a button to check your mail, you can configure Claws to fetch your messages automatically. Use one of the notification plugins to configure automatic notification if a new messages arrives. The Claws command interface also lets you execute an arbitrary command when a message arrives, thus providing unlimited options for custom processing.
Composing
Composing a new message is as simple as clicking the Compose button on the toolbar. The message composer is equipped with spell checking, wrapping, and an undo feature. Actions and templates (described later in this article) provide additional possibilities for creating and processing messages. Claws also offers a variety of privacy options, as well as a return receipt feature and priority settings.
You can use an external editor to compose messages and insert text files directly into the body of a message.
comments powered by

Disqus