Managing GPS data with ActivityDiary
Evaluation
On the left-hand side, the program now gives you the details of the route, such as the starting time, duration, distance, average speed, and altitude (Figure 5). If you need detailed information about a specific part of the route, rather than for the whole route, you can right-click and use the drop-down menu functions to move the starting and finishing points of your route to match the section you are interested in. ActivityDiary then automatically updates the chart and the route details, giving you information on the selected section.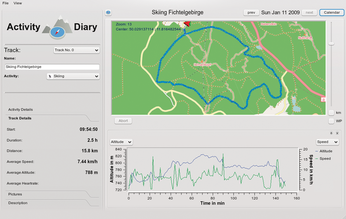 The activity type – which is shown as an icon in the calendar – the activity name, and all user-defined information for the current route can be entered and edited on the left.
After storing all the information you need, save the data in your diary via the menu, or by pressing Ctrl+S. Then you can use the calendar to find the activity in the matching calendar week and load and edit the activity via the calendar at a later date (Figure 6).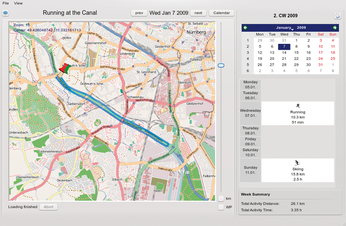 The Future
ActivityDiary is an open source project that is still at an early stage of development. The programmers still need to complete some of the useful features on their roadmap, and others need some polishing.
For example, it should be possible to configure the user-defined fields for additional information via a menu; this would let users customize the program to suit their needs.
In addition, it would be useful to enhance the way the map view and charts work together so that selecting a value or a range in the chart would highlight the matching waypoints on the map.Some work also needs to be done on the pulse data display. The program currently relies on time as the basis for integrating pulse and GPS data so that you can see exactly which climb caused a high pulse rate.
On a positive note, ActivityDiary is a stable, platform-independent, and easy-to-use program that visualizes and manages GPS data in a digital diary. Even if you don't have GPS information for a route, ActivityDiary gives you the option of editing a route manually to cover all of your workouts. And entering multiple-day training camps or treks that you can then evaluate whenever you like is easy. The combination of geodetic information and pulse data is a new approach to analysis.
Conclusions
The programmers are not short on ideas for extending the program. For example, they can imagine people exchanging stored routes via a web resource to let other people know what they have been up to in their training or to plan joint activities. The ability to export routes created manually in map view, which would allow users to trace routes with their GPS devices, also seems useful. The programmers welcome feedback. If you have any other ideas or suggestions, would like to report a bug, or just want to download ActivityDiary, visit the project website.
comments powered by

Disqus
Visit Our Shop
Direct Download
Read full article as PDF: