Server-based computing with the free X2Go terminal server
X2Go Server
A range of variants of the X2Go server component are available; the basic version takes less than 10 minutes to install and is perfectly okay for test purposes and for most private desktops. It includes secure remote access, shares, and sound output and does not rely on an LDAP installation [13][14].
Admins prepared to invest more time in installing X2Go will be rewarded with multiserver capabilities and central management for settings, users, and groups via LDAP using Luma [15], for example.
If you need to support thin clients that use PXE to boot individual images, there is no alternative to setting up a directory service. X2Go does not require individual schemas but will integrate with existing configurations. Centralized management of active sessions is supported by a PostgreSQL database; a central instance is sufficient for multiple X2Go servers on a network.
Sudo helps admins specify which user groups are permitted to log on to the X2Go service. Because during the installation phase the visudo-based configuration is difficult for newcomers, the new client version now checks to see whether the user is a member of the required group and, if not, displays matching error messages (Figure 5).
Admin Tools
Besides the server and client, X2Go offers graphical administrative tools, which integrate with the KDE control center. Modules for daily use are available for user, group, and device management, along with session control and configuration modules for X2Go itself.
Directly linked to this is a separate, rich text-capable pushmail system (x2gomail), a front end for Samba administration, and a front end to manage desktop sharing. Simultaneous use of a single session allows multiple users to work collaboratively with a single application. Administrators will also appreciate the ability to monitor user activities in support cases (Figure 6).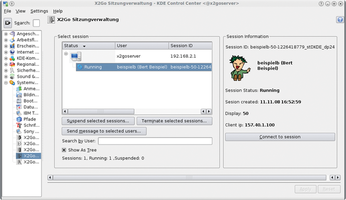 As an added goody, the KDE control center modules also can be used to manage an LDAP server. Because the user and group management features support convenient live searches and have auto-complete functionality, the tools are useful for larger numbers of users. Administrators can search for sessions on all X2Go servers with a clear-cut tree view showing individual server assignments.
System Requirements and Issues
The current X2Go system requirements include a display of 640x800 or more and a client machine with an 800MHz CPU.
This said, the Qt engine's SVG renderer will take 5 seconds to display the login manager under these circumstances. X2Go is developed exclusively on Debian, which is why you will need a Debian system to install X2Go with all its features, although packages for Mandriva, Arch, and Alt Linux also exist.
The developers still refer to X2Go as a leisure-time project, even though it has an impressive feature scope and references. Resources are limited; the team focuses on programming, which explains the fairly sparse information on the website. Fortunately, members of the Linux4Afrika project have started publishing installation HOWTOs and problem-solving guides online.
Currently, the Windows client installation routine in X2Go version 3 will not run on Vista; some manual file copying is required. The Mac variant has a problem with the version of X11 included with OS X, and USB authentication is not finished. Add to this the known issues with the NX libraries on FreeNX and OpenNX and their X.org code components, which prevent integration with the Debian repositories.
comments powered by

Disqus