Nifty Firefox extensions
TimeTracker
The main purpose of the TimeTracker extension [4] is to make you feel bad about spending too much time watching YouTube videos and hanging on Facebook instead of working. Unlike other tools that simply register how long your browser has been opened, TimeTracker provides a few features that you can tweak to get a better idea of how much time you spend working or slacking (Figure 3). For starters, you can add websites to the Do not track filter, so TimeTracker pauses when you navigate to any site on the list. The timer also stops after a specified idle time (60 seconds by default) and when Firefox is not in focus. Of course, TimeTracker can't prevent you from chatting with your friends on Facebook for hours, but psychologically, the ticking timer can be highly motivating.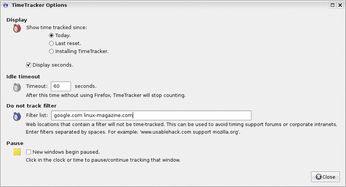 Lazarus
Here is a situation many users might find familiar: You spend half an hour writing a forum post, Firefox crashes, and all your work is gone. Even if Firefox doesn't crash, too many things can still go wrong and force you to start from scratch. To avoid pulling your hair out each time this happens, install the Lazarus form recovery extension [5]. It runs quietly in the background and saves the text you enter into forms in a database. When you need to restore a form, right-click in it and choose Recover Form from the context menu. Using Lazarus' options, you can specify how long you want to keep the saved form data and protect the data with a password.
Word Count Plus
In some situations you need to know the exact word count in a text area of a form – for example, when you are working on a blog post of a specific length directly in the browser. Such a situation as this is when the Word Count Plus extension [6] can come in really handy. First, select either a text fragment or all the text in the form, then click on the Word Count Plus icon in the Status bar to view the word count. To view the character count, mouse over the icon. That's it!
comments powered by

Disqus