Mass storage and data management with Parted Magic
Data Backup
In addition to regular backups, cloning the system partition could also be a useful approach – for example, to restore broken installations at the press of a button. Cloning grabs all the contents of a disk or partition without modifications or deletions so you can, for example, replace a hard disk without reinstalling and reconfiguring the operating system. Parted Magic comes with the Clonezilla [5], Ghost 4 Linux [6], and Partition Image [7] tools in the System Tools menu for this task.
Although Clonezilla exclusively creates unchanged images of a disk or partition and puts them on the target in a few steps using a slightly rustic CLI-based interface, Ghost 4 Linux covers a wide spectrum of functions. In addition to sector-wise copying of data, you can also back up individual files from partitions; the software supports an impressive number of different filesystems here. Additionally, Ghost 4 Linux allows you to save and restore backups over the network.
Finally, Partition Image provides similar functionality to Clonezilla and an equally rustic-looking surface. The tool also allows you to use network shares but will also back up and restore the master boot record of a hard disk, if needed. The File System Archiver is a program for backing up partitions; it not only comes with a graphical interface, but can also handle various filesystems, and it lets you encrypt archives (Figure 4).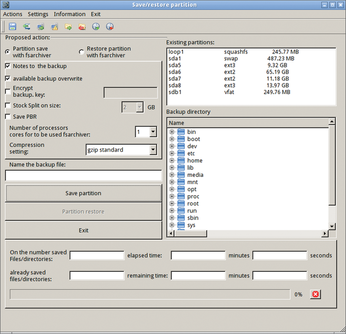 The somewhat ancient Unstoppable Copier for Linux lets you copy individual file sets; on request, the software takes file trees into consideration and lets you know if it failed to copy files because of faulty integrity.
Wow Effect
The GEncFS tool in Parted Magic lets you manage encrypted partitions. Although the program does not allow you to encrypt conventional partitions, it does give you an easy option for mounting previously encrypted partitions on the current system.
If you intend to work with disk encryption in the future, TrueCrypt in Parted Magic also gives you one of the best encryption tools on the market. The software encodes your data securely and also offers an easily usable graphical interface for newcomers without a deeper knowledge of cryptographic methods.
Partitioning
One of the main tasks of Parted Magic is to edit the setup of existing hard disks and SSD partitions. The distribution primarily provides GParted [8] for this purpose. The tool not only creates, modifies, or deletes partitions, it also changes their size. Additionally, GParted lets you move, test, and format individual partitions. The software supports an impressive number of filesystems.
comments powered by

Disqus
Visit Our Shop
Direct Download
Read full article as PDF: