Machine-generated memes in Perl
Motivation: Annoying People
As a demo, I used a sequence I shot during another vacation from my hotel room on the beach boardwalk at Venice Beach near Los Angeles [5]. It shows a tourist desperately trying to tow back a stubborn Segway to the rental company. Schadenfreude is the only true joy, says the cynic.
After extracting the photos from the video as described earlier, Listing 3 converts the individual frames into an animated GIF movie using the Imager module:
anigif shot*.png
The for loop in line 7 iterates over all file names passed in at the command line. The animation size of 300x200 pixels in lines 14 and 15 and the 26 total frames selected result in an animated GIF of about 1MB named anim.gif.
The write_multi() method writes the frames read previously with the new() function to the hard drive as a .gif file. The necessary image format conversions are done automatically behind the scenes. The make_colors option uses mediancut to normalize the color table between the frames, thereby ensuring faster conversion. It is important to set the gif_loop option to , causing the browser to run the image sequence forever after loading the image (Figure 5).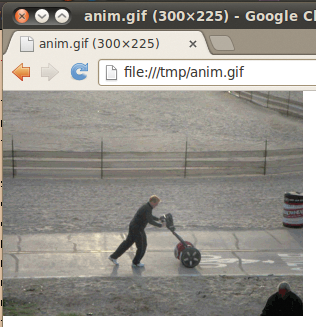 For a perfect finishing touch, I want to add a funny header to all the screenshots, while leaving the footer empty. The script in Listing 1 will do just fine for the single frames:
for i in *.png
do
  meme-simple $i "SEGWAY FAIL" ""
done
The command anigif shot*-meme.png reads all files with the -meme.png extension and generates the animated GIF. Figure 6 shows a scene from the masterpiece. Throughout the entire movie, the heading with the title stays motionless and perched 100 pixels below the top edge of the (originally sized) image because the string is built into every frame in the same way. It is white and uses the Impact joke font. If you like, you can check out the animated image online [6].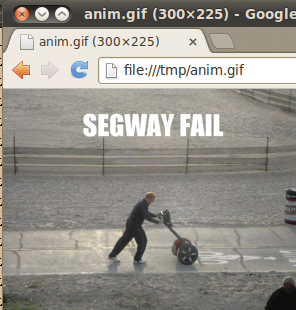 Thoughts
At the cutting table, I muse about Internet humor and other design options: Should I perhaps generate jokes automatically from random text? Maybe using quotes from the IMDB movie portal? My interns will be really surprised next summer.
comments powered by

Disqus
Visit Our Shop
Direct Download
Read full article as PDF: