Entangle, Rapid Photo Downloader, and GTKRawGallery
Nifty Photo Helpers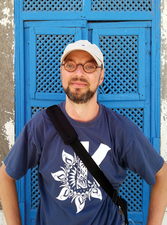 Capture, transfer, process, and manage photos using the Entangle, Rapid Photo Downloader, and GTKRawGallery applications.
When it comes to working with photos, digiKam, GIMP, et al. are not the only fish in the sea. Plenty of other applications can prove to be useful additions to your photographic toolbox.
Entangle
Tethering your camera to a computer opens a whole new world of possibilities. You can instantly view captured photos on a large screen, trigger the camera remotely, and do time-lapse photography. Although applications like Rawstudio and Darktable support tethered shooting functionality, Entangle [1] makes a better choice as a dedicated tool for the job.
This application lets you control the camera and its settings via a simple and user-friendly interface. Because Entangle is light on resources, it can run even on modest hardware, so you can, for example, transform an old netbook into a tethered shooting station. Based on gPhoto2, Entangle can handle a wide range of cameras, but it's worth keeping in mind that the application only provides access to features supported by your specific camera model (Figure 1). Although you can use Entangle with a smartphone camera, the application is better suited for use with a decent DSLR camera.
You need to do two things before you can start using Entangle. To begin, you have to make sure that the application supports your camera. To do this, choose Help | Supported Cameras and check whether your camera model is on the list. Here, you can also see what functionality is supported. For example, the capture, preview, settings entries next to the camera model mean that Entangle can be used to trigger the camera, preview captured photos, and control the camera's settings. Next, you might want to configure the application's settings. Choose Edit | Preferences to open the Preferences window and tweak the available settings at will.
Once you've done that, close the preferences window, connect, and turn on your camera. Then, choose Camera | Connect, select the camera from the list of detected cameras, and press Connect. You should see the supported camera settings in the left sidebar (Figure 2). If you happen to use a fully supported DSLR camera, Entangle can be used to control practically every aspect of the camera. This includes key settings like aperture, shutter speed, ISO, white balance, exposure compensation, and so on. Additionally, Entangle lets you adjust more advanced settings, such as metering mode, bracketing options, center weight area, and much more.
Capturing photos using Entangle is as easy as pressing the Capture button in the main toolbar. When you do that, Entangle triggers the camera and automatically transfers captured photos to the designated directory on your computer. All captured photos are shown as thumbnails in the thumbnail bar, and you can preview the desired photo by clicking on its thumbnail. When previewing the photo, you can use the buttons in the main toolbar to zoom in and out, as well as display the photo at the 100 percent crop. The bar at the top of the image shows basic info, including aperture, shutter speed, ISO, and image size. If you enabled the histogram option in Entangle's preferences, you can also view the photo's histogram.
The continuous capture preview button in the main toolbar enables the Live View mode, which can be useful for previewing the scene before capturing a photo. Keep in mind, though, that you must disable the Live View mode before you can use the Capture button to trigger the camera.
Entangle features a Presentation mode that can take advantage of multiple displays. In this mode, Entangle displays the last captured photo on the selected screen. To enable this mode, choose View | Presentation (or press F5), then select the target display from the View | Present on menu.
Rapid Photo Downloader
Although most photo management applications have tools for importing photos from different sources, Rapid Photo Downloader [2], which is designed specifically for transferring photos and videos, can come in handy in many situations (Figure 3). It packs several features that make it a perfect tool for downloading, processing, and organizing photos and videos. For starters, Rapid Photo Downloader can simultaneously download photos from multiple sources, so if your camera has two card slots, you can transfer photos from both of them in a single operation. Rapid Photo Downloader is optimized for transferring photos and videos at the highest speed possible using the fewest system resources, so the utility is ideal for downloading hundreds and even thousands of photos.
Rapid Photo Downloader's preferences give you full control of how the utility processes and sorts the downloaded photos. To open the preferences window, choose File | Preferences. In the Photo Folder section, you can specify target folders and subfolders. Rapid Photo Downloader allows you to define naming rules for subfolders using different parameters like date and time, file name, and metadata.
The default rules in Rapid Photo Downloader automatically transfer the downloaded photos to date-based subfolders, but you can easily define other rules, too. For example, if you shoot in both RAW and JPEG formats, you can configure Rapid Photo Downloader to sort photos by file type. Because Rapid Photo Downloader allows you to define multiple naming rules, you can set up a complex subfolder hierarchy.
In the Job Codes section, you can also specify global job codes that can be used as naming parameters. This allows you to create job codes for different locations (Japan, Germany, Denmark, etc.), and then define folder naming rules that neatly organize your photos from different trips (Figure 4). Rapid Photo Downloader even lets you define naming rules based on specific Exif values, so you can organize the photos by camera model, focal length, ISO, and so on.
In the Photo Rename and Video Rename sections, you can define rules for renaming the transferred photos (Figure 5). Here, too, you have a wide range of options to choose from, which makes it possible to create advanced renaming rules. For example, the rule shown in Figure 5 renames photos using the date and time information from the photo's Exif metadata.
The Backup section lets you specify a destination directory for saving backup copies of the downloaded photos. For example, you can specify an external USB storage device as the backup destination, and Rapid Photo Downloader will automatically back up the photos while downloading them from the camera.
GTKRawGallery
Besides tools like Entangle and Rapid Photo Downloader, you also need an application for processing and managing captured and downloaded photos. Although digiKam seems like an obvious choice here, you might want to give GTKRawGallery [3] a try. This photo management application is light on resources and provides all the essential features for keeping tabs on photos and processing RAW files (Figure 6).
Similar to digiKam, GTKRawGallery consists of browser and editor parts. The browser is used to view and organize photos, and the editor is designed for processing and editing RAW files and photos. In the Directory Tree pane in the browser window, you can navigate through the filesystem and pick the directory containing RAW files and photos. When you do that, all images in the selected directory are shown as thumbnails in the main pane. The buttons in the main toolbar let you select multiple items, switch between different viewing layouts, change thumbnail size, and rotate the currently selected photo. Using items in the View | Sort by menu, you can sort photos by different criteria, such as date, name, and type.
Tag Manager (Tags | Tag Manager or Ctrl+T) can be used to tag photos and edit tags. Power users will also appreciate Tag Manager's Advanced Metadata Editor tool, which can be used to create custom groups of metadata entries and edit their values. For example, you can create a group containing the Artist and Copyright entries, then specify their values and apply them to the currently selected photo. The created group can be saved as a template for later use.
To manage photos more efficiently, GTKRawGallery can organize them into albums. To create an album, choose New | Album (or press Ctrl+N), give the album a name, and press OK to save it. All created albums are listed under the Albums tab in the lower-left pane. To add photos to an album, drag and drop the selected thumbnails onto it.
Using GTKRawGallery's publishing capabilities, you can easily push photos to Facebook, Flickr, or Google Picasa. To do this, select the photos you want to publish, then choose the desired service from the File | Publish to menu. In addition to that, you can upload the selected photos to Dropbox using the File | Upload to Dropbox command.
The editor part of GTKRawGallery lets you view and edit metadata, process RAW files, and retouch photos (Figure 7). GTKRawGallery relies on the excellent DCRaw software for processing RAW files, and you'll find plenty of tools and options for tweaking processing settings under the Dcraw tab. Here, you can adjust parameters like gamma, saturation, brightness, denoise, and highlight mode. All modifications can be saved as presets for later use.
Photo editing and retouching tools in the editor are arranged into three groups: Enhance, Transform, and Effects (Figure 8). Besides the standard features like crop, rotate, and red eye removal, the Transform section contains more advanced tools for correcting lens distortion and removing vignetting. The Enhance tab contains an assortment of tools for adjusting white balance, temperature, exposure, contrast, and much more. Here, you'll also find the Levels and Curves tools indispensable for advanced photo editing.
The Curves tool allows you to adjust curves individually in different channels, as well as save curve settings as presets. As the name suggests, the Effects section contains a handful of artistic effects, including the usual suspects like sepia, grayscale, sketch, and so on. More importantly, this section also provides access to sharpen and noise reduction tools.
The History section shows a list of all edits applied to the currently opened photo, and you can save the list as a style. This way, you can apply the same edits to other photos.
comments powered by

Disqus
---
Support Our Work
Linux Magazine content is made possible with support from readers like you. Please consider contributing when you've found an article to be beneficial.
---