Perl script sets up Jenkins jobs to automate builds and tests
The Bare Necessities
If the script determines that the configuration data already stored on the Jenkins server is identical to the data generated locally via the template, it leaves the current project in peace and moves on to the next one. If the configurations differ, it overwrites the server configuration with the new locally generated configuration. If it sees that the project does not exist on the Jenkins server, it calls the create_job() method to set up a new build process.
The flow of the script can thus generate something like the following output:
2014/08/05 21:20:18 Job for log4perl already exists.
2014/08/05 21:20:18 Updating job log4perl2014/08/05 21:20:18Creating new job for libwww-perl.
2014/08/05 21:20:18 Creating new job for algorithm-bucketizer.
The first project needed updating; the other two were not even on the server, so they were set up.
The results are shown in Figure 4. All three Perl projects were set up identically and differ only in terms of their individual GitHub URLs and the project names. Users can run all three regularly via a cronjob, triggered by a web hook for incoming commits on GitHub, or by pressing the Build Now button.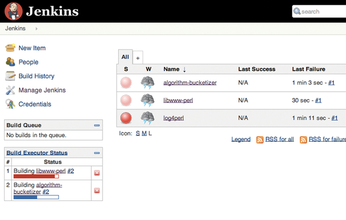 Virtual Installation
I installed the Jenkins server on my desktop at home in a VirtualBox VM created with Vagrant. The idea was to keep my workspace clean and make it easier to reset to an empty Jenkins server installation for testing purposes using a snapshot I created previously.
The Vagrant file in Listing 5 uses the Ubuntu 12.4 image downloaded from vagrantbox.es and passes the port used by Jenkins (8080) from the VM through to the host so that the user can control the Jenkins server on the host.
The Jenkins CI server, installed according to the official instructions [5], curiously seems to be stuck in the past century and can only handle legacy CVS and SVN repositories if left to its own devices. However, after waiting some time, the server shows you a menu Manage Jenkins | Manage Plugins | Available with a Git Plugin (Figure 5), which you can then download and install using point and click in the browser (Figure 6).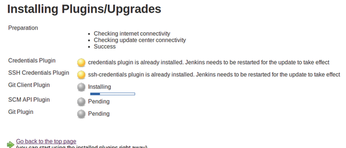 The Ubuntu VM does not include the git command-line tool, which means you need to access the VM using vagrant ssh and then install the tool by typing sudo apt-get install git. Use cases for the CI server are not limited to building and running the test suite; you can also define additional build steps that push the checked-in code into production – much to the delight of the developer – without any further human intervention or delays.
comments powered by

Disqus
Visit Our Shop
Direct Download
Read full article as PDF: