Open source RSS aggregators
Sputnik
When it comes to standalone desktop RSS aggregators, you have plenty of choices: Akregator, QuiteRSS, RSSOwl, and many others. If you need a user-friendly and lightweight RSS reader, then you might want to take a look at Sputnik [5]. Although this RSS aggregator is relatively new, it shows a lot of promise. Installing and upgrading Sputnik on Linux is a matter of downloading and running the latest .run installer file.
The aggregator is intentionally light on features, but essential functionality such as feed import and export, keyboard navigation, and sharing is present and accounted for. Better still, Sputnik lets you organize feeds into categories and assign tags to individual RSS articles. If you opt to keep tagged articles permanently, you can use the tagging functionality to save RSS articles and find specific items later. When you update feeds, Sputnik stores the fetched articles locally, so you can read them offline.
The aggregator features a streamlined interface consisting of the sidebar with RSS feeds and the reading area in the middle. Unfortunately, you can't adjust the width of the reading area, so a lot of screen space on the right is wasted. Sputnik does a great job of rendering RSS articles in readable form, but you can't customize settings like fonts, font size, line spacing, overall theme, and so on. Because it's a strictly standalone application, Sputnik doesn't offer synchronization functionality. So, basically, Sputnik has three main things going for it: simplicity, slick interface, and speed (Figure 8). If this is what you value most, you'll appreciate Sputnik.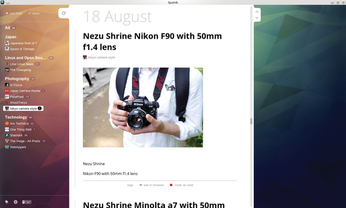 Honorable Mention
Of course, you can choose from plenty of other excellent open source RSS aggregators besides those covered in this article. Sismics Reader [6] is a feature-rich web-based RSS aggregator written in Java. Thanks to installer files for all mainstream platforms and Linux distributions, Sismics Reader is easy to deploy. The aggregator features a responsive interface, and a dedicated Android app is available in the Google Play Store.
Selfoss [7] is a PHP-based RSS aggregator that can use MySQL or SQLite as its back end. Selfoss displays RSS articles as a stream, so it's probably better suited for use with a limited number of RSS feeds. Selfoss apps are available for Android and iOS.
Stringer [8] is another web-based RSS aggregator that eschews fancy features and focuses on simplicity instead. The easiest way to run a hosted version of Stringer is to deploy your own instance on Heroku using the dedicated button in the project's README.md file.
Finally, the FeedHQ aggregator [9] is first and foremost a hosted service, but the software is released under an open source license, and the source code is available on GitHub. FeedHQ offers multiuser support, grouping by categories, a responsive interface, keyboard navigation, and other useful features. It doesn't have its own client app, but it works with several third-party Android and iOS apps.
comments powered by

Disqus
Visit Our Shop
Direct Download
Read full article as PDF: