Five screencast programs tested
Results
In my test, Kazam delivered stunning image quality. As with all screencast programs, it is advisable before the first recording to adjust the volume to avoid feedback or a sound level that is too loud. The screencasts showed significant differences in terms of storage requirements in the WEBM and MP4 formats, despite using the same frame rate and resolution. Whereas a screencast recorded in HD quality in the WEBM format, including the audio recording, occupied about 5MB storage space, a recording of equal length in the MP4 container format needed around 10MB.
Annoyingly, when recording in the VP8 (WEBM) format, the audio signals caused problems. Short blackouts occurred at intervals of a few seconds; this did not happen in the MP4 format. You should perform test runs of professional desktop recordings to identify possible malfunctions as soon as possible.
recordMyDesktop
RecordMyDesktop [2] is one of senior screencast programs and is available from the software repositories of many Linux distributions. The installer creates a launcher in the Multimedia menu. In addition to the program package, you will want to install the associated binary package for Qt or GTK+ based desktops to have a user interface that integrates seamlessly with the desktop environment.
The software then opens an unusual-looking application window: On the left, you sees your screen in a scale-down form, and on the right, two sliders let you adjust the quality of the video and audio recording. Sound can be turned on or off by clicking the button in front of the slider (Figure 3).

Control Concept
RecordMyDesktop expects you to set the areas to record manually in the scaled-down display in the program window. On mousing over the display, the mouse pointer turns into a cross, and you drag a frame around the area you want to include by holding down the left mouse button. The frame is shown in red and keeps a red border after releasing the mouse button. If so desired, you can grab just one window on the screen by clicking Select Window and clicking the desired window.
After defining areas or a window, you start the recording by pressing Record. The software then retreats into the system tray and shows you a black square that you use to stop the recording.
After stopping the recording, you see a window in which the data encoding progress can be tracked (Figure 4). If you Cancel this process, you lose the recording. After encoding, the program window pops up again.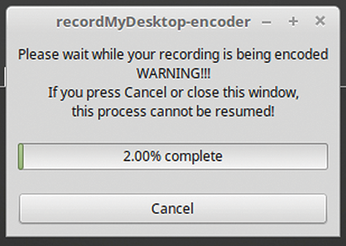 comments powered by

Disqus
Visit Our Shop
Direct Download
Read full article as PDF: