FOSSPicks
bcal
This is another brilliantly useful tool that performs one simple job extremely well – bcal converts between storage formats and performs various calculations. This is important because there's plenty of confusion over what certain numbers represent and how they're valued. GiB is a good example, as this is often used as a replacement for GB representing gigabytes, which itself gets confused for all kinds of values for data across a network. Typing dcal 50 gib will give the canonical answer – 52428800 KiB, 51200 MiB, 50 GiB, or 4.8828125000e-02 TiB, as represented by the IEC standard (base 2). The SI standard (base 10) is also output, alongside decimal and hexadecimal address values plus both LBA offsets. These details are obviously going to be handy for anyone working with storage, but it's also useful for anyone worried about space or who wants to work out exactly what they're paying for with their latest SSD purchase.
Additionally, bcal can be used for all kinds of representation and conversion. You can show the binary, decimal, and hex representations of a number, for example, using the -c argument followed by the number. You can convert between logical block addressing (LBA) and cylinder-head-sector (CHS) with -f, and you can work out storage capacity by adding -s, followed by a sector size, such as bcal 0xaabbcc kb -s 4096. Because the values are output all at once, the tool makes it easy to see what the differences are and why there's so much confusion around their use.
Project Website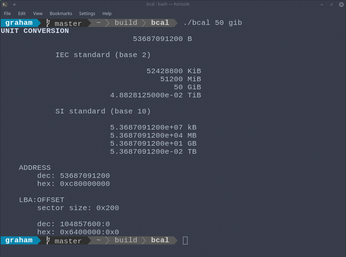 Screen capture
Peek 1.0
You can't seem to scroll down a news site in peace these days without being bombarded by animated GIFs. These little low-res movies often start without prompting and run on short loops until you either close the tab or relent and watch the full thing. But animated GIFs are an ancient technology, and they can't be all bad if they've lasted this long. They're small, resource light, and supported by almost every platform, from the Commodore Amiga to the iPhone 7, which is what makes their ubiquity part annoyance and part a handy addition to static websites – when used cautiously. And that doesn't mean as a vehicle for memes and the emergence of a meme dialect that will one day supplant traditional languages.
In other places, however, these little low-quality movies are genuinely useful, and one example is as a way to quickly show something happening on screen. This could be because you're writing documentation for a piece of software or sharing a tutorial on how something is accomplished. Or, it could simply be the way you share discoveries on your website. Either way, creating short animated GIFs of your mouse or keyboard interacting with something is often much easier to understand than writing 200 words to do the same thing – which is exactly what Peek does so well. It opens a small window that is used to grab a section of your screen at a predefined frame rate. It's simple, easy to use, and generates an animated GIF instantly. The latest version will even generate WebM and MP4 files too, which makes Peek far more useful as a general purpose screen grabber. If you need a quick and easy tool to grab your screen, much like animated GIFs themselves, Peek is perfectly suited to the task.
Project Website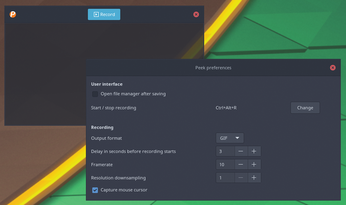 comments powered by

Disqus
---
Support Our Work
Linux Magazine content is made possible with support from readers like you. Please consider contributing when you've found an article to be beneficial.
---