Sparkling gems and new releases from the world of Free and Open Source Software
Audible Instruments
One of the best things about VCV Rack (see opposite) is that it can host unofficial virtual re-creations of real hardware by using the hardware's original open source firmware to provide the same functionality in software. It's analogous to a retro console or computer emulator re-creating the hardware and legally using the original ROM. With VCV, you can connect virtual audio, voltage, and signal cables between the modules, just as you can with the physical hardware. If you connect the audio output to your audio interface, you'll hear the same audio. This is because most of these modules aren't analog, but usually built around ARM microcontrollers and algorithms, with all of the clever sound generation done within its open source firmware.
The Audible Instruments suite of plugins for VCV Rack is inspired by real and very popular hardware created by Mutable Instruments, and the suite is currently in active development, although not all modules are functional. Functionality ranges from 100% in the macro oscillator to 0% in some of the modules that are purely analog and are unlikely to be emulated. But for the modules with good support – the macro oscillator (Braids), modal synthesizer (Elements), tidal modulator (Tides), and texture synthesizer (Clouds) – performance is almost identical. I know this because I have a couple of the modules myself, and it's remarkable that I can now run the same setup on my computer desktop that I run on my physical setup. The only slight hitch is that it's all unofficial; I hope more exposure will mean more people get into Eurorack modules and buy modules from the likes of Mutable Instruments, rewarding the company for its open policy toward firmware hacking and hardware development.
Project Website
https://github.com/VCVRack/AudibleInstruments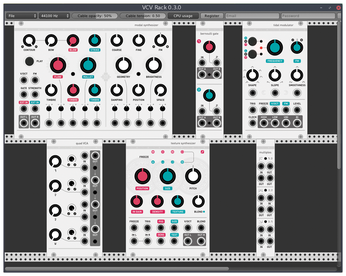 Desktop planetarium
Stellarium 0.16.0
There can't be many Linux users who haven't played with Stellarium. It's an amazing desktop planetarium application that lets you see a crisp and perfectly clear night sky from anywhere in the world, from any time, in perfect detail. It's capable of drawing stars, constellations, planets, nebulae, and even Earth-bound features, such as the ground, a 3D landscape, and the atmosphere. With the conjunction of a major astronomical event with a major software Stellarium release, it's worth taking another look. Whether you're looking at a solar eclipse or the view from a different planet, Stellarium's great strength is its wonderful OpenGL graphics that are capable of painting the sky in extraordinary detail.
If you're into making serious observations, Stellarium will help you to find what you're looking for, and the latest release helps, with the new AstroCalc extension that can show you what's up this evening, as well as read your location from a GPS and support the RST2 telescope system. If you're having a sky party with a few friends, the new RemoteSync feature can allow all of your Stellarium instances to talk to each other so that you can stay in sync with the view.
The new version has new catalogs of peculiar galaxies and Hawaiian and Belarusian star lines and even includes 3D models for irregular solar system objects, such as minor bodies like asteroids and small moons. Stellarium really is a brilliant project and can help kindle a love of astronomy and the wider universe, even when you're sitting beneath Britain's inclement skies. The fact that major features and add-ons like these are still being developed is worthy of praise. Thanks Stellarium team!
Project Website
https://sourceforge.net/projects/stellarium/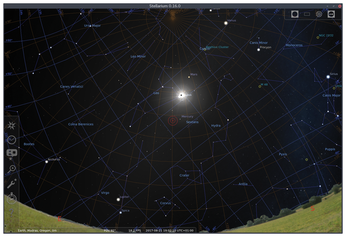 comments powered by

Disqus
---
Support Our Work
Linux Magazine content is made possible with support from readers like you. Please consider contributing when you've found an article to be beneficial.
---