Sparkling gems and new releases from the world of Free and Open Source Software
Neofetch 3.3.0
Neofetch is a script that initially feels inconsequential but quickly becomes important. On the surface, all it really does is generate some command-line eye candy that displays important details about your current installation. These details include which operating system/distro you're using, your motherboard model, RAM, CPU, desktop environment, and theming options. But it does this in such a clear and concise way that it has become something of a cultural phenomenon. Users will include a thumbnail in their signatures, or as part of an online avatar, or share the output on subreddits and forums. Neofetch has become a shortcut to your Linux (or even Mac OS and Windows) personality or fingerprint. But all that belies how capable it is and the underlying complexity behind making sense of so many different ways to pull data from your system.
There are more than 50 configuration options for changing the way the output is presented, and there's support for Linux, Mac OS, iOS, BSD, Solaris, Android, Haiku, GNU Hurd, MINIX, AIX, IRIX, and Windows (and even Cygwin/MSYS2/MinGW/Windows 10 Linux subsystems). This release adds lots of new distros, including Endless OS and Netrunning, more ASCII logos, embedded image formats, and which GPU driver you're running. Patches for these options have been provided by lots of contributors. This is perhaps because of one of Neofetch's best features – it's written in Bash, and many of its functions are hard coded with huge arrays of case and if statements. It might not be best programming practice, but it's easy to understand, modify, and contribute toward, and it is perfect for beginners and people who may never have contributed to a project before.
Project Website
https://github.com/dylanaraps/neofetch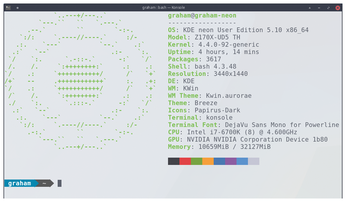 Cloud music player
MellowPlayer 3
A few music players attempt to harness the various disparate music sources on the web, which is a worthwhile endeavor because it's often difficult to keep track of what appears where and which services are still running. Will SoundCloud still be around in two years, for example, or how long will all those Prince bootlegs be available on YouTube? (They've already taken them down.) A single place for all of your online music sources makes sense, and this is what MellowPlayer is attempting to be. Unlike relying on third-party libraries and unofficial API access, MellowPlayer is really a container for the web interfaces of these services, which is how it supports so many. 8tracks, Deezer, Google Play Music, Mixcloud, SoundCloud, Spotify, Tidal, TuneIn, and YouTube are all supported if you have the accounts to access them. However, you will need access to QtWebEngine compiled with proprietary plugins for many to work, including SoundCloud and Spotify.
What makes MellowPlayer better than a series of bookmarks is that your listening is now all within a single application. You can use your desktop to control playback, and audio is delivered outside of your browser. Each service has notifications and the same user interface, although the service navigation is courtesy of that service's web application, including annoying advertisements. You can even add your own online music sources with the Create Plugin wizard. The process isn't quite point-and-click and involves the creation of a group of configuration files, but it shouldn't be too difficult either. If new services can be added and the plugin system expanded (maybe to include ad blocking?), MellowPlayer could future-proof itself against changing services and perhaps become just as useful as local desktop players.
Project Website
https://github.com/ColinDuquesnoy/MellowPlayer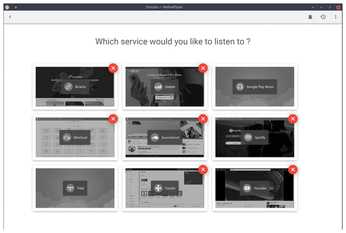 comments powered by

Disqus
Visit Our Shop
Direct Download
Read full article as PDF: