Open hardware makes science education fun
Brown Dog Gadgets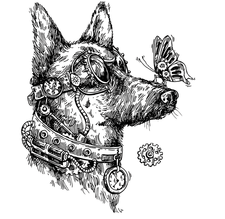 Brown Dog Gadgets is making science education more accessible and affordable with open hardware.
Free software and the maker movement have always been closely connected to education. In the last few years, open hardware has started to strengthen this connection. A case in point is Brown Dog Gadgets [1], a small company dedicated to making science accessible. The company's latest crowdfunded project is Crazy Circuits [2], kits of Lego-compatible circuit boards and other electronic components and a growing array of projects ranging from what founder Joshua Zimmerman describes as an "evil Cylon pumpkin" to basic Arduino programming (Figure 1).
A few yeas ago, Zimmerman was a middle school science teacher in Milwaukee, Minnesota. "My classroom had a really small budget – it was my salary. I was always looking for fun science projects for my students and myself. I would find projects on Instructables.com and YouTube and then implement them in my classroom and after-school science club. I was using the open source projects that were out there, and then I started posting them back on Instructables.com with better instructions and teaching points assigned to them."
After a while, other teachers started asking for parts and kits. "I started putting parts in bags, and that kind of snowballed on over a couple of years," says Zimmerman. "The tipping point was when I was working a 10-hour school day, [and] then an eight-hour evening shipping things and answering emails. I was getting maybe five hours' rest, and not doing well at either job. It came to a point where I had to choose one or the other, and I was upset at my current school at that point." Zimmerman chose his growing business, working out of his parents' basement, mailing kits and developing projects to use with the kits.
Zimmerman's first crowdfunding project in 2013 was for solar panels. The campaign reached its goals – but just in time for the market prices to drop as solar panels became widely available. Solar features are an important part of Brown Dog products, but its solar panels were unsellable and were finally thrown out in 2017.
Today, Brown Dog Gadgets still sells off-the-shelf components and will rent the use of its laser cutter and other machines for $40 to local customers – about half what is usually charged in Milwaukee. The company avoids doing design work, which Zimmerman describes as "the black hole of customer service. We really don't have the man hours to do that stuff, and most people don't want to pay for it." Increasingly, the company focuses on educational products: the best-selling Bristlebots, "small robots made by combining a toothbrush head and vibrating motor"; its arts and craft supplies, including paper circuits, conductive paint, and thread; and, increasingly, Crazy Circuits. "We try to be a budget brand," Zimmerman says. "We're cheaper, and we give you more for the same price."
Explaining Crazy Circuits, Zimmerman notes, "Most students and most teachers don't want to do a project on a breadboard with LEDs and jumper wires." By contrast, Crazy Circuits chips (Figure 2) do everything possible to simplify the use of electronics. Parts are pre-soldered, because "teachers either don't want to do soldering or don't have the resources in the classroom to adequately manage safety and liability issues." Besides, as Zimmerman points out, projects that require soldering are already widely available online. Parts are also color-coded and come with note cards showing the part and, on the back, an example of how the part might be wired in a simple circuit. A reference card, Zimmerman reasons, is easier to use than finding information online.
However, the main appeal of Crazy Circuits components is their compatibility with Legos (Figure 3). It took Brown Dog Gadget six months to drill the holes so that parts would fit on Lego blocks and to develop custom conductive tape that would stand up to wear and tear, but Zimmerman considers the effort worth his time. "Lego is ubiquitous," he says. "Everyone knows Lego. It's the largest toy company in the world, over the twice the size of its rivals, and well-branded with licensed products. Teachers can take advantage of those licensed projects by making things like a Star Wars X-Wing with wings that open and basic sound effects." Even Lego clones can be useful – for example, Zimmerman has started using steel blocks from a clone to designate push points.
Science Arts and Crafts
The Brown Dog Gadgets' home page promises "a passion for creating fun." Talking with Zimmerman, it soon becomes clear that the slogan is more than just words. Rather, it describes the company's entire approach to science education.
"From a teaching perspective, we try to mix new ideas with things people are already familiar with," he says, "making it 95 percent familiar. It's really science arts and crafts. I mean, every student by the second grade has learned at home or in the classroom to use scissors. It's what kids do. Well, adding conductive tape and LEDs to it isn't adding a whole lot of new things for them." In addition, familiarity is important for teachers, because the reality of public education is that "a lot of teachers are newbies to their subjects, too, and if the teachers don't feel comfortable with something, they're not going to do it."
For example, a common science project is to create the game Simon [3], which requires players to echo increasingly more complex sound patterns. "It's just four buttons and four LEDs on an Arduino board," Zimmerman says, "but by putting it on Lego or on a T-shirt [Figure 4], you add that extra novel touch to it. It turns a breadboard project into a smart interactive kit. Or you can do the same project on a wall with conductive paint, so you're touching conductive paint points as opposed to push buttons, and suddenly the look and feel makes it engaging and interesting. From a teaching perspective, we try to mix new ideas with things that people are already comfortable with."
Zimmerman cites his mother as an example of the attitudes this approach is intended to overcome. "She's an amazing sewer and an amazing quilter and sews up a storm in her retirement, but she's like, 'I could never do your T-shirt projects,' and I say, 'Mom, I'm doing the most basic sewing known to man. I stink at sewing. All I'm doing is sewing on special buttons – that's all I'm doing. I know you can sew a button on, and I know you can use thread.' It's just adding that idea and presenting it in a way that is not frightening or threatening to somebody, especially an adult who is set in their ways."
Beyond this entry-level approach, Brown Dog Gadgets also offers projects for more advanced users. Often, he says, teachers get overambitious and set themselves impractical goals, such as trying to teach robot programming in a single semester. Instead, Zimmerman focuses on encouraging familiarity with programming. For example, instead of programming from scratch, Zimmerman includes projects that only require minor editing of existing code, such as creating a piano with conductive tape (Figure 5) and then changing the note played. "It's something new, but doesn't overwhelm them. Keep things simple; then let people have fun," he advises.
Educational Sharing
When Zimmerman is not filling orders, he spends his time talking at teaching conferences. Next year, he also hopes to start presenting at Lego events. His time is also spent writing an open source curriculum for electronics, working with other small resellers, and posting the results on GitHub [4]. The curriculum is designed to work with other off-the-shelf components, not just those manufactured by Brown Dog Gadgets (Figure 6). What matters is being accessible. "Teachers swap secrets," he says. "Reputation is huge. If something is working for them, and it's fun for them and fun for their classes, they tell everybody. That's the type of advertising that I could never afford. One teacher talking to other teachers on Facebook means far more than one Facebook post from me."
As a result of these efforts, a community is starting to form around people working with Brown Dog's components and projects. "I'm always amazed when people send me ideas, because half the time I'm like, 'That's a great idea. How can I do that?' Or, 'Ooh, that gives me another idea.' We're all about what people can do with our projects and our resources."
comments powered by

Disqus
---
Support Our Work
Linux Magazine content is made possible with support from readers like you. Please consider contributing when you've found an article to be beneficial.
---