Retro games on the Raspberry Pi
Play with Me!
After all the preparatory work has been completed, you can integrate the desired games, known as ROMs, into the system by transferring them to the roms/ directory of the SD card. (Please see the "Gray Area" box.) If you emulate several different gaming consoles, you should create a separate subdirectory for each console to store the ZIP archives or ISO images.
From a legal point of view, the use of emulators and ROMs on computer systems proves to be problematic. If the emulator contains code from the original console, it may violate copyright laws, so downloading and using it may be illegal. However, many manufacturers release their software for old consoles that are no longer manufactured. Therefore, it is recommended only to buy emulators from reputable websites.
Game ROMs are also subject to copyright. For example, some manufacturers, such as Nintendo, explicitly point out on their websites that free downloading of ROMs is prohibited [6]. However, many games have not been available on the normal gaming market for many years, and often the rights owners no longer exist or have been taken over by other companies.
To activate the desired console, select the Load Core option from the main menu. In addition to hardware emulators for pure consoles, you will find DOSBox for emulating a DOS system. Next, load the desired game by choosing Load Content | Start Directory | Load Archive.
The menu disappears and the game screen appears. Use the controller to navigate through the game. Lakka automatically saves scores and configurations, allowing you to resume interrupted games from the History menu at your old score (Figure 3).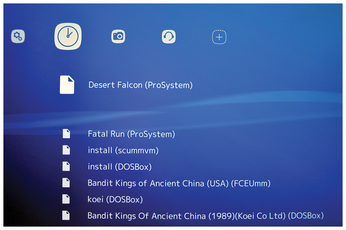 Lakka also makes it possible to retrieve ROMs from the network by clicking Netplay in the main menu. In a clear-cut dialog, you can define whether to use the Rasp Pi as a host or a client.
Conclusions
Lakka on the Raspberry Pi offers hours of gaming fun without tying the user to a specific console model. The game pace was positive in the test on the RPi3.
However, some DOS games ran so fast they could not be played in DOS emulation. In other games, the player immediately lost track of the game in quickly changing complex scenarios. You shouldn't use very old games on high-resolution monitors, because scaling the content creates ugly block effects.
Lakka offers many configuration options, decent hardware support, and easy-to-use menus. The few weaknesses still to be found under the hood are probably a result of the rapid on-going development of the software and are likely to disappear in future releases.
comments powered by

Disqus
---
Support Our Work
Linux Magazine content is made possible with support from readers like you. Please consider contributing when you've found an article to be beneficial.
---