FOSSPicks
nvtop
Despite the NVidia graphics card being an essential part of many Linux setups, especially if you're into virtual reality (VR), gaming, or machine learning, there isn't much in the way of third-party (or first-party!) support. NVidia X Server Settings is about as good as it gets. With the proprietary drivers installed, the hardware is often left simply to find its own way, whether that's accelerating polygons with OpenGL or autonomous truth matrices with OpenCL. The first sign of anything going awry is likely to be the airplane sound of your GPU fans as they attempt to cool some wayward GPU-bound process. If the GPU was a CPU, you'd use a tool like top, or htop. Now with NVidia's hardware, you can use nvtop.
nvtop is a task monitor for your graphics hardware. Much like the CPU variants, it shows you the type of application, the amount and percentage of memory it's using, and the command used to launch the process. A global section also displays details about your specific hardware, such as the model, PCI speed, GPU frequency, transfer rates, power, temperature, and fan. A couple of brilliant charts show percentage usage for raw processing power, memory, and encoding and decoding, as well. Many of these elements are dynamic and will change as your GPU experiences periods of load. It provides a fascinating insight into something not often considered, but if you're using your GPU for work or serious gaming, it's also essential because you can see which processes are stealing precious cycles and affecting your performance. You can then kill them directly from within the text-based UI. It's all you need for GPU management. If you have an NVidia GPU, this is a tool that will quickly become an essential build and install on any system on which you rely.
Project Website
https://github.com/Syllo/nvtop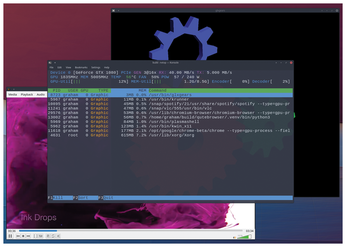 Teleprompter
Imaginary Teleprompter
A teleprompter is often associated with that awkward wide-angle shot of live television, where the presenter is looking past the camera towards the large screen of text showing what to say. The teleprompter is usually showing a script for the presenter to speak, and it's been an important but specialized aspect of television production for decades. There initially seems little reason to look at an open source version, but YouTube has made all those old television techniques new again – from lighting to blue screens – and a teleprompter is a great way to help with narration and flow and takes the pressure off the presenter needing to remember everything to say.
Imaginary Teleprompter is one such teleprompter, and it looks and operates just like a word processor. You edit and format the text in exactly the same way, only you typically make the text very large. The main window lets you add images, create anchor points, add tables, and even add flash animations. A real-time update shows the number of paragraphs you've added, alongside the number of words. When you're happy with your copy, you click Prompt it, which opens a new pane that gives you the option to flip the screen, use an external prompter, change the style from the standard blackboard, and set the focus area. The focus area is a narrow letterbox through which the text scrolls – like a window – allowing the presenter to see what's coming and can then get ahead of the focus point or behind, depending on the presenter's style and the context of the talk. As you'd expect, you can also change the scroll speed, as well as the font scale and acceleration curve. A timer also shows you how long you're taking. It all works absolutely brilliantly and could easily make the difference between your YouTube channel being full of clumsy reviews and a professional channel that's far more likely to attract viewers and sponsors.
Project Website
https://snapcraft.io/imaginary-teleprompter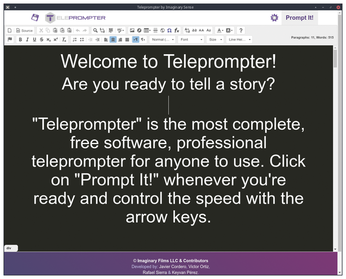 comments powered by

Disqus
Visit Our Shop
Direct Download
Read full article as PDF: