Pretty Complex
Money, Money, Money
There is a huge market of software developers, admins, hackers, and surveillance technology orbiting US military as well it's affiliated industries (Wikipedia lists BAE Systems, EADS, Leonardo, General Dynamics, Raytheon, and Thales, just to name a few). In the Europe, Lench IT's FinFisher [21], dubbed "Remote Monitoring and Deployment Solutions," has been the basis for many state-run Trojans deployed on Apple and MS Office, mostly by third-world regimes, but also by the German government. The tool seems to be quite efficient: In 2013, Reporters without Borders called it "Corporate Enemy of the Internet," and several human rights initiatives have criticized it and its customers harshly. The public controversy around FinFisher has resulted in a long and broad public discussion, leaving lots of traces of how the digital-military complex works and how governments fund "security" companies. The "enhanced remote deployment methods" that companies like FinFisher love to advertise are usually nothing more than exploits, usually zero-day exploits, which is where it becomes expensive. Most exploits are traded on the darknet on websites like the Russian hacking forum, FreeHacks (Figure 2), but these portals change quickly.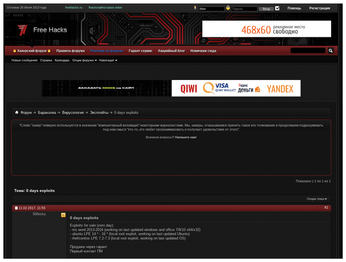 When you're shopping on the darknet, you better bring money. At the BOS Data Festival (BDF) 2015, Adriel Desautels explained [22]: "Zero days are used for very specific things. Things you usually don't get access to. The value is determined by operational need and window of time. The value of an exploit in the zero-day market is determined by target distribution. [...] The prices start at $110,000 for a single zero-day, non-exclusive exploit and can range up to millions. [...] If you sell something to a customer for 50K in one year, and he comes back the year after, needs somthing similar, and pays 200K, you know he might be pretty powerful and has a valuable target." In the same presentation, Desautels gave his audience some peace of mind: "You're not the target: Service providers are a much easier way for the government to get your data. They will hand over data; the government doesn't need to pay to get ordinary people's data."
The amounts Desautels mentions still seem credible, as high as they are. Zerodium [23], a major zero-day buyer, offers bug bounties on its website. One such bounty (Figure 3), dated August 23, 2018, offers "up to $100,000 for code execution exploits affecting major file archivers: WinRAR, 7-Zip, WinZip (on Windows 10/8.1), or tar (on Linux)."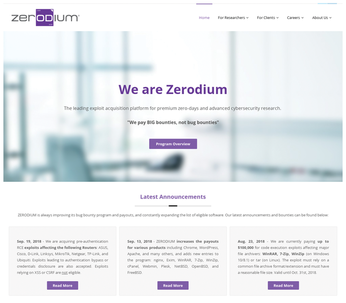 Exploit Lifetimes
Obviously, there's a lot of money in the game, and its origin seems pretty clear. The overly potent buyers drive up the price by spending ridiculous amounts of taxpayer's money. However, there is another factor: Zero-day exploits are very volatile. They "die", resulting in intelligence services having a continuous need for them. And it gets worse: A recent Rand study [24] shows that while an exploit's life expectancy is about seven years, more than 25 percent don't survive the first year. Less than 25 percent survive up to nine years. However, no indicator explains why and which exploit is likely to survive longer than others. "For a given stockpile of zero-day vulnerabilities, after a year approximately 5.7 percent have been discovered and disclosed by others." This is very important for military usage, where attackers want to be the only ones. The Rand study found that it usually takes 22 days to create a fully functional exploit once a vulnerability has been discovered.
Code Quality and Bug Bounties
Bug bounties are another reason for the high prices of exploits: Companies like Google pay five-digit sums for bugs, to a total of $3 million in 2017, helping to create a valid business model for hackers – they don't need to actually exploit the flaws to make a living [25].
Many experts claim that the number of available zero-day exploits are decreasing (causing prices to explode), because software vendors' code quality is continuously increasing, resulting in fewer exploitable flaws. Code fuzzing, automated QA, and extended, faster testing are often mentioned as very successful. A former hacker, now trainer and security consultant for German prosecutors, says tools like Google's ClusterFuzz discover bugs before they can be exploited.
comments powered by

Disqus
Visit Our Shop
Direct Download
Read full article as PDF: