Workshop – Fitting a PCIe SSD with your existing hardware
M.2 or NGFF
Another alternative for using SSDs in older systems via the PCIe interface is to use of adapter cards. Modern SSDs with the M.2 form factor [4] are used. This relatively new technology is also available with support for both AHCI and NVMe and was originally only intended to replace the mSATA interface in notebooks.
However, new stationary computer systems are increasingly being equipped with M.2 interfaces that are directly connected to the PCIe bus. However, these interfaces, also called Next Generation Form Factor (NGFF) interfaces, are again available in a variety of designs, so that it is essential to obtain precise information before purchasing such an SSD.
M.2 SSDs are available in different lengths and widths. Typically, they are 42, 60, or 80mm, so not every SSD will fit in every slot. In addition, different recesses on the contact strips (often known as keys) sometimes prevent the use of certain models. Usually, M.2 SSDs fit in sockets that support either Key M or Key B.
The sockets differ not only in terms of the cut-outs for the plugin cards, but also in the number of PCIe lanes supported: Cards that have Key M and Key B cut-outs use two PCIe lanes, while those that only have Key M cut-outs use four PCIe lanes.
As a rule of thumb: SATA SSDs in the M.2 form factor have either a single Key B or a Key M plus a Key B cut-out. PCIe SSDs with AHCI or NVMe support, on the other hand, have only one Key M cut-out.
Card Game
If your PC does not yet have an integrated NGFF slot, then adapter cards for PCIe slots, which provide one or two and sometimes also four M.2 sockets, are available as an alternative. There are even cards that have an additional mSATA connection.
When selecting the adapter cards, you have to look carefully. The slots for the M.2 SSDs are usually the same length and width, regardless of the interface. However, especially for those adapter cards that accept two M.2 models, one is usually intended for SSDs with Key B and the other for Key M.
The connection for Key B is only designed for SATA SSDs and is looped through to the controller already present in the computer via a standard SATA cable. True PCIe SSDs in NGFF form factor, on the other hand, integrate into the system via the Key M slot. It is therefore advisable to read the technical specifications carefully when buying new adapter cards and also to look at the printing on the adapter card if you are unclear about the slot assignment.
Most manufacturers now print explicit warnings on their adapter cards to avoid confusion. In addition, before purchasing a new M.2 SSD, you should read its technical description carefully: In many cases, it is not immediately clear whether it is an M.2 NVMe SSD, an M.2 AHCI SSD, or an M.2 SATA SSD.
Since the PCIe SSDs have Key M cut-outs, it is easy to get confused. The Kingston M.2 Type UV500 SSD is a SATA SSD, for example, while the HyperX Predator model from the same manufacturer is available as an older PCIe AHCI variant and – under the same type designation – as a newer PCIe NVMe version. Externally, the three M.2 SSDs differ only marginally.
Lite-On CX1
For our test, we chose a PCIe-AHCI-SSD with a Lite-On CX1 [5] as an example. The mass storage module is available in variants between 128 and 512GB; under the hood, the SSD uses NAND memory from Toshiba. The technical data of the SSD clearly identifies it as a PCIe SSD with maximum read and write rates of 730 and 830MB/s, respectively, which requires a version 2 PCIe slot with four lanes.
The Lite-On SSD is facing off against an adapter by Taiwan-based manufacturer SilverStone [6], which allows the simultaneous use of two M.2 SSDs in dual-slot operation: One of the slots accommodates a SATA SSD, and the second is designed for a PCIe mass storage device. The slots are clearly marked, so there should be no confusion (Figure 3).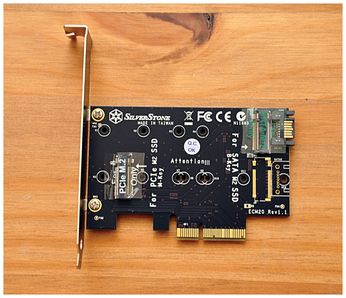 The SATA slot is also connected to the appropriate controller on the computer's motherboard via a matching cable. This design ensures that an M.2 SATA SSD installed on the adapter card is capable of booting the operating system installed there in any case (Figure 4).

The Lite-On SSD fits into a PCIe slot with a Key M assignment. We then installed the adapter in a free PCIe x4 slot. The operating system – in our lab, Linux Mint 19 "Tara" – detected the PCIe SSD without additional manual work and addressed the entire drive with its correct capacity of 512GB.
The performance test revealed that, as expected, the SSD is not one of the fastest: With a read rate of 678MB/s and a write rate of 526MB/s, the small M.2 drive is only slightly above the maximum possible transfer rates of the SATA III standard. However, the Lite-On SSD proves to be a true sprinter compared to the RevoDrive under Linux. The access times of the RevoDrive are also significantly higher than those of the Lite-On CD.
comments powered by

Disqus
Visit Our Shop
Direct Download
Read full article as PDF: