FOSSPicks
DF-SHOW
There are many different file managers that run from the command line, but the one most of us think of, and the one we're most likely to use, is Midnight Commander. Midnight Commander was created by Miguel de Icaza way back in 1994, before he started the Gnome project, before Ximian, Mono, and Microsoft. Midnight Commander was itself inspired by Norton Commander, which was an essential tool for anyone working in the pre-Windows world of Microsoft DOS. And so too is DF-SHOW, which is a new command-line file manager inspired by another DOS classic, Larry Kroeker's DF-EDIT. This becomes apparent as soon as you launch the application via its show command. The files are listed in that warmly familiar teal color that seems, even now, the color of the early 90s DOS era.
Unlike Midnight Commander, the default view isn't split between source and destination directories. Instead, it's a flat list of the files and directories in the launch location. It looks a lot like the output from ls, but you navigate through the files using the cursor keys or the function keys. A top "menu" of commands display the initials you can use to navigate into directories, or to mark files and folders to copy, delete, rename, show, and edit. The latter will launch your default text editor, allowing you to edit files in-place, just like in the 90s. You can even "hUnt," which means pressing U to search through the contents of the files using a case-sensitive search term. The show function is implemented as a separate command, sf, which can be useful if you want to quickly see the contents of a file without worrying about what its specific type might be, all of which can be configured if necessary.
Project Website
https://github.com/roberthawdon/dfshow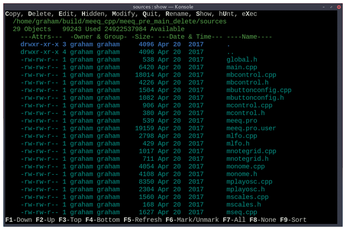 Synthesizers for ADLMIDI and OPNMIDI
ADLplug
Here are two software synthesizers that are part of a much larger project, although you're unlikely to have heard of it unless you enjoy listening to a certain era of video game music. The "upstream" project consists of two command-line music players that emulate two specific frequency modulation (FM) audio chips from a bygone era, the Yamaha YMF262, also known as the OPL3, and the Yamaha YM2612, or OPN2. Both were used in early computers and games consoles, with the latter being in Sega Genesis (also known as Mega Drive) and the former commonly found in even the earliest Sound Blasters, where FM chips could be found for years. If you played PC games in the mid-to-late 90s, there's a good chance the music came from one of these chips. As with the SID chip from the Commodore 64, these chips offer plenty of audio nostalgia for people who played the games that used them. Consequently, there's a large audience of devotees playing those old tracks on their modern machines with the command-line players.
These two painstakingly engineered emulations have been used to create two software synthesizers, turning those old sounds into fully fledged, MIDI-capable plugins that you can use within any VST-compatible Linux host. It's just like taking one of those early chips and putting them at the heart of a real hardware synthesizer, and they sound wonderful. They're both FM, but the brilliant thing about FM synthesis is that it sounds very different from classic oscillators. They're great for plucky strings and warm brass sounds, for example, and sound quite different from most other synths. Both have a similar architecture and almost identical controls, but they keep their individual character and are an essential installation if you're into any kind of chiptune music creation.
Project Website
https://github.com/jpcima/ADLplug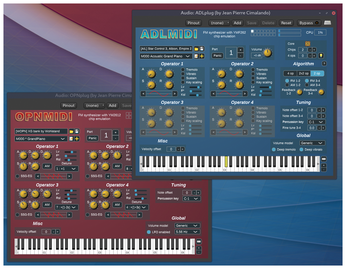 comments powered by

Disqus
Visit Our Shop
Direct Download
Read full article as PDF: