Innovative time management with Fanurio
The Bill Please
Fanurio not only logs the workload during a project, but also supports you in accounting. If you have not enabled the invoice module in the wizard during the initial configuration, you can do this at any time by opening the Business menu in the program window and selecting the My Business Details entry.
In the Billing tab that now opens, check the Enable billing module option. Fanurio will then extend the dialog with some configuration options, which you can use to define a payment period and make settings for automatic invoice numbering, for example.
There is also a small table in which you can store items you regularly sell, which can thus flow into the calculations for your projects. The Projects tab lets you make further settings. In addition to project numbering, you can define billing units and hourly rates.
Additionally the Expenses, Trips, and Products groups can be enabled by checking the boxes. This is where you can integrate costs incurred for trips and additional services or goods into the total calculation (Figure 5).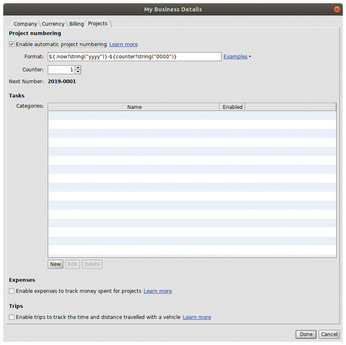 Templates
To print invoices and reports, you have the option of creating your own documents in Fanurio. The application supports numerous formats, with HTML and PDF acting as the standard formats. In addition, the software can also handle XML, CSV, ODT, and ODS files.
If you already use templates in these formats, store them in the corresponding template folder and select them again later. The template folders can be accessed via File | Open Templates; Fanurio lists the desired templates to reflect the various report types.
If you have enabled the billing module, you will also find a Template Editor item under the File menu. You can use this to design an attractive invoice form in a few minutes using a graphical interface (Figure 6). You will find details on this in the software documentation [4].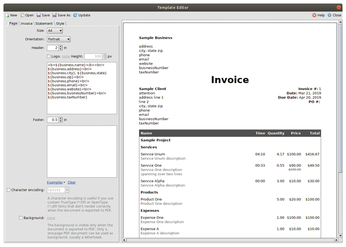 Data Backup
By default, the software automatically creates regular backups of all the data you create in an application-specific format. You can start a backup manually via File | New Backup…. Further options for the data backup can be found in the Restore Backup…, Open Backup Folder, and Change Backup Folder… menu items.
In the dialog for creating a backup, you can see the automatically created backups. Their file names always start with auto, followed by the date and time. Fanurio also saves manual backups with a date and timestamp, but the name of the backup starts with manual. This lets you distinguish between automatic and manual backups at a glance.
If you want to change the target folder (e.g., to save the backups to a removable disc) in the future, you can use the Change backup folder… option to do so. Enter the new folder path in the dialog that then appears. The best way to tell Fanurio to transfer existing backup files to the new folder is to check the option Copy files to new folder.
comments powered by

Disqus
Visit Our Shop
Direct Download
Read full article as PDF: