Spotifyd delivers beautiful music without the bloat
Retro Charm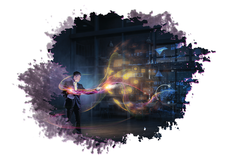 So you like to travel light and work at the command line? Why not access Spotify in the terminal and do without the official client?
Spotify has offered an official client for the Linux desktop for years [1]. Although no major functional differences exist between the versions for Windows, Mac OS X, and Linux, some in the FOSS community have criticized the Spotify desktop client – not just because it occupies more than 280MB on the hard disk, but also because of its license terms, which prohibit free distribution. The non-free license means that Spotify cannot be directly integrated into the package sources of the popular Linux distributions [2].
Some users who wish to avoid the Spotify client tune into the service via a web browser. The web browser must support the digital rights management (DRM) implemented in Spotify. However, the Linux environment does include some music players, such as Volumio, that support streaming of Spotify [3]. Especially in the Linux world, however, many users like their programs lean and don't consider a web interface much of an improvement over a desktop GUI. If you're a Linux user who would rather operate from the command line, you can still play your favorite tunes on Spotify. This article introduces you to some useful tools for playing Spotify in the terminal window.
Spotifyd
Spotifyd [4] is a lean Spotify client written in Rust [5]. The Spotifyd client requires access to the Spotify Connect service, which means you'll need a commercial premium Spotify account. If you only use the streaming service via an ad-funded account, you cannot use Spotifyd. In addition to running on Intel-based Linux systems, Spotifyd also runs on the ARM-based Raspberry Pi, which makes it easy to deploy an unobtrusive RaspPi as part of the streaming environment. Spotifyd uses only 3MB RAM. Because Spotifyd supports the Spotify Connect protocol, you can control it from other Spotify clients, which means you could connect the Spotifyd client system to your TV or stereo system, and then control it from another computer or Spotify device.
[...]
Use Express-Checkout link below to read the full article (PDF).
comments powered by

Disqus
Visit Our Shop
Direct Download
Read full article as PDF: