FOSSPicks
PCem
Even though we looked at an emulator of the classic Sun-2 recently, the vast majority of emulators we look at in these pages deal with nostalgia for the home computer and games consoles of the '80s. This is because they're what many of us grew up with, and their hardware is often unique and esoteric. But there's also a whole class of other hardware that those emulators don't touch. That's the huge number of IBM PC clone computers that were released during the 1980s and then into the 1990s, when they eventually took over from the remnants of the 16-bit classics. Like any modern PC, the great advantage in these machines was that manufacturers could mix and match components, from the processor and its associated sockets, through to the graphics and audio cards. But of course, that makes creating a single emulator for this platform almost impossible.
Or does it? Because that's exactly what PCem accomplishes. First off, it emulates a staggering number of those early PC systems and motherboards, from the 8088-based Tandy 1000 and Compaq Portable Plus, through Amstrad's range of 8086 PCs, 286, 386SX, 386DX, 486, and even socket 4/5 and 7 Pentium machines, all with specific model names and manufacturers. Alongside the platforms, it emulates many different types of graphics hardware, including CGA, S3 ViRGE/325, and the original 3DFX Voodoo. Audio is equally well-provided for, from the lovely frequency modulation of the AdLib card to the "CD quality" Sound Blaster AWE32. To get all this to work, you will need legal access to the ROMs from the original hardware, much like you do with any retro-emulator, but you can use PCem to switch freely to your chosen configuration to run the original software – albeit without having to turn the floppy disk over halfway through loading.
Project Website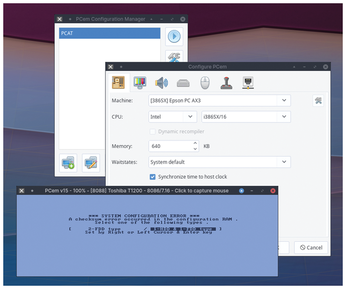 Astronomy tools
StarCharter
There are a considerable number of brilliant desktop astronomy applications for Linux. Stellarium, for instance, generates a photorealistic view of the night sky from your backyard or from anywhere on Earth. KStars does the same for the KDE desktop, complete with a catalog of 100 million stars and a (still free) companion Android app. But with their reliance on screens and limited plotting capabilities, few of these desktop tools are ideal when you want to go out and plan an evening where the photons from distant star systems can actually reach your retinas. That's where StarCharter can help. StarCharter is a command-line tool that can be used to generate vector graphic charts of the night sky. These charts are not photorealistic, but they are instead clear, concise, and accurate maps of the relationship between the stars for a specific part of the sky.
Before StarCharter can generate anything, it first needs access to various star catalogs and images. This can be grabbed automatically by running the included setup.sh script. You then need to write a configuration file for the view you wish to render. This sets values, such as where you want to look, what projection to use, and whether constellations have boundaries. You can also add the paths of solar system objects, including asteroids and comets. It's easy to enter these details if you already know about astronomy, but, if you're a newcomer, you may need to use Stellarium to come up with the right numbers and terminology. Fortunately, a folder of examples is included, and these are easy to modify and adapt. You can then use the command line to generate PNG, SVG, PDF, and EPS versions of your chart, which all look fantastic, whether you want to take them outside or publish them on your website.
Project Website
https://github.com/dcf21/star-charter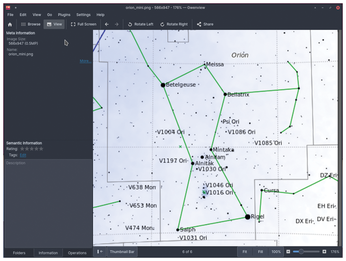 comments powered by

Disqus
Visit Our Shop
Direct Download
Read full article as PDF: