FOSSPicks
SteamCAD
There are many weird and wonderful applications on Linux. It's what makes the platform so interesting and keeps these pages full of new and exciting discoveries. But this is one of the most specific and narrowly niche applications we've come across. SteamCAD is a 2D CAD application that's been designed for drawing steam locomotives. You might think that this can be done with any piece of CAD software, but the impetus for this project was precisely because SteamCAD's developer couldn't get the features they wanted out of either the CAD software available at the time (LibreCAD and QCAD) and the file formats they used (DXF). SteamCAD hopes to address those shortcomings for designers, engineers, and artists with a love of trains.
The first thing you might wonder is what needs to be specifically tailored in a piece of CAD software to help you draw trains. For the developer of SteamCAD, it's the creation of custom length and angular units that enables SteamCAD to work with any unit type, including imperial from the golden age of steam, as well as metric, although you can create any type you like using a configuration file. This helps massively when transcribing the repeated and reflected angles in a locomotive design you might be copying from the original drafts. Of course, you also have access to line, circle, ellipse, arc ellipse, hyperbola, and many other tools. These are accessed via the Mode menu, because the user interface is purposefully minimalistic to keep the emphasis purely on the design. You can then copy, mirror, and rotate around points using the Access menu, as well as accurately measure distances, slice through sections, and round edges with the Tools menu. When you're finished, the whole project can be exported as a beautifully rendered PDF file or as a DXF file if you'd rather make more edits in different CAD software.
Project Website
https://github.com/oskardolch/SteamCAD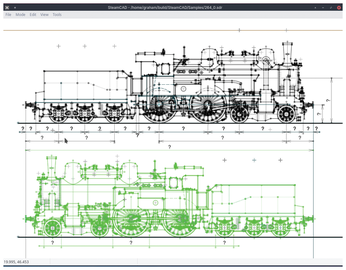 Audio monitor
traKmeter
Martin Zuther has written a handful of brilliantly designed, perfectly functional audio processing tools, and made them all available under an open source license for free. None of these will turn your music or recordings into the latest hit, but they each perform an essential step in the process. There are two that stand out: Squeezer, an audio compressor which we cover below, and traKmeter, a loudness meter. You might think that any audio application worth its salt already has its own audio meter – it's usually the skeuomorphic animated LED display that goes up and down according to the audio's amplitude. This is true, but most of these meters are completely inadequate for producing the best quality audio output, because they'll only momentarily show the peak of signal, without any further interpretation.
Digital audio has very specific limitations. If the signal is even just a little too high, it will clip and cause nasty distortion. Detecting when this high point is likely to be hit isn't as easy as it seems. That's where an advanced monitor like traKmeter can help. As with Martin's other plugins, it works either as an LV2/VST plugin, so you can send audio to it from your favorite audio application, or as a standalone app that will plug into ALSA or Jack. As it supports multiple tracks, as well as stereo, you can monitor eight inputs and eight outputs at the same time. The level metering itself is an average centered on -20dB FS RMS, with a peak trigger at -10dB FS peak. Even if you don't understand the technical details of how those numbers map to the energy in your recordings, they force you to make a quieter recording, which will result in a higher quality output. All you then need is a compressor.
Project Website
http://www.mzuther.de/en/software/trakmeter/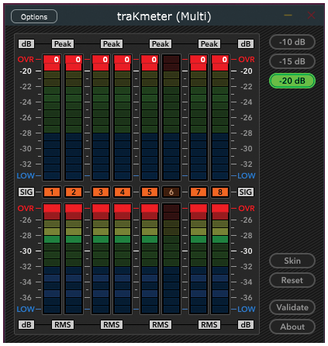 comments powered by

Disqus
Visit Our Shop
Direct Download
Read full article as PDF: