Steampunk portable Rasp Pi lunchbox
Moveable Feast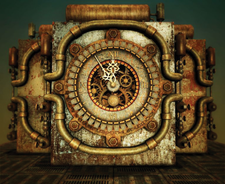 A lunchbox-style portable Raspberry Pi computer provides external control for a steampunk robotic skull.
As "Dr. Torq," I play a moderately eccentric 1880s-era inventor who develops physical computing projects with modern off-the-shelf parts; then I share lessons learned through how-to articles and conference tech talks. The steampunk aesthetic inevitably generates a lot of curiosity, so it naturally figures prominently in many of my designs. One of my designs, a robotic skull, needed additional controls, so I decided to create a steampunk lunchbox-style portable computer.
Why a Steampunk Lunchbox Computer?
Hedley, my steampunk robotic skull (Figure 1), originally had an onboard Raspberry Pi brain. The Rasp Pi sent speech data from a processing program to an Arduino, actuating the jaw. It also had a JeVois smart machine vision sensor, and I used a webcam program like luvcview [1] to monitor whatever the sensor recognized. I built a little outboard monitor to watch the vision sensor feed, effectively turning Hedley into a stealth desktop computer. Hedley even appeared with me at a couple of conferences and ran my LibreOffice session slides. Although Hedley worked, it always felt kind of clunky.
This led to the idea of using a separate portable Linux computer to direct Hedley's actions while also supporting conference tech talk activities. A lunchbox layout style would allow ample freedom for over-the-top design elements and give a cool "open frame" steampunk look. Here, I look at the lunchbox machine in its present form, the software, and how it all came into "sitting on the table" reality. In fact, this article was written with the lunchbox notebook (Figure 2).
[...]
Use Express-Checkout link below to read the full article (PDF).
comments powered by

Disqus
Visit Our Shop
Direct Download
Read full article as PDF: