New features in Red Hat Enterprise Linux 8.2
Programming
RHEL 8.2 also provides a number of important updates for programmers. PHP 7.3 adds the rrd and Xdebug extensions; rrd provides bindings for the RRDtool C library, and the Xdebug extension helps with debugging and development.
Version 1.41 of the Rust Toolset is included with the release, as is Go 1.13 and Python 3.8. GCC Toolset 9 comes with updates for GCC, GDB, and SystemTap.
Internal Networks
The Red Hat developers have upgraded Samba to version 4.11.2; the SMB1 protocol is now disabled on Samba servers and clients for security reasons. If you still want to use it at your own risk, you have to enable it yourself. You will also find changes to identity management (IdM), Kerberos, and the directory server.
Conclusion
All told, RHEL 8.2 introduces a large number of small changes. Existing tools give admins better insights into their systems, new security profiles offer better protection, and kernel updates let you test new features such as eBPF. If you have recent hardware, you are likely to benefit from the updated drivers for graphics cards. RHEL 8.2 also provides developers with more recent versions of their toolchains. For more on the changes, as well as information on bug fixes included with the release, see the RHEL 8.2 release notes (Figure 2) [3].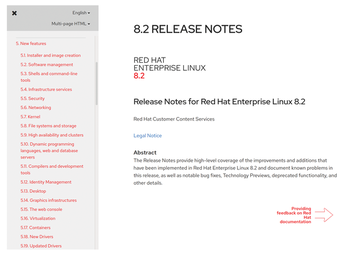 comments powered by

Disqus
Visit Our Shop
Direct Download
Read full article as PDF: