Sparkling gems and new releases from the world of Free and Open Source Software
Xournal++
That there are so many note-taking applications is perhaps a reflection of how personal note taking can be. We all have our own proven methods and routines. But one of the best accepted ways of taking notes is by actually writing or drawing them, rather than typing them on a keyboard. The physical act of drawing something seems to help the brain with categorization and recall, whereas typing can be more passive. There are far fewer note-taking applications capable of working with this kind of sketch, but Xournal++ is one of them. Xournal++ has been designed first for written, rather than typed, note taking, which is also why there are versions for the web, Android, Chrome OS, and (imminently) iOS, alongside the GTK+ desktop version we're looking at. The UI, too, is entirely tailored for drawing rather than typing and beautifully designed and rendered. Its default background simulates the lines and margins you'd find on a typical notebook, inviting you to start drawing, but you can change this into graph paper, your own background, and even musical staves.
Drawing is accomplished with a simple click and drag, just as it would be in an art package. It's obviously much easier with a touchscreen or stylus, or even with a drawing tablet where pressure is taken into account, but it's also passable with non-accelerated mouse or touchpad settings. There's a choice of tip thickness and easy access to a color palette containing common pen colors, as well as tools for drawing common shapes. You can also record an audio annotation while you're scribbling. Pages can be inserted before or after the current page, and you can create two or more columns and switch the layout between vertical and horizontal. The entire project can then be saved or exported as a PDF or PNG with or without the eye candy paper style. It's a wonderful application to use, and it works perfectly.
Project Website
https://github.com/xournalpp/xournalpp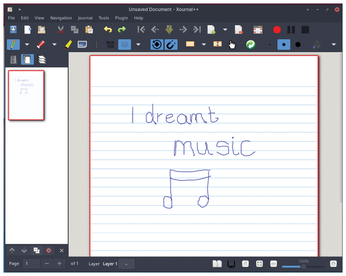 Galaxy Buds utility
LiveBudsCLI
As Linux users, we're familiar with not being able to use the latest shiny Apple and Samsung devices with our computers, especially now that so many rely on companion smartphone apps to control their configurations. This can be difficult when devices such as Apple's AirPods, or Samsung's Galaxy Buds Live, are some of the best devices in their class. For the latter, however, we now have LiveBudsCLI, a brilliant open source tool that lets you control all aspects of your Samsung in-ear earbuds from the luxury of your Linux command line. LiveBudsCLI works with both Galaxy Buds Live and Galaxy Buds+. After first pairing your device in the normal Bluetooth way for your system, you need to run the earbuds -d command. This launches a background daemon that will monitor your buds and enables LiveBudsCLI to constantly report on their status. It even creates a PulseAudio sink so that your desktop audio can be easily routed to your headphones, which can then be controlled with any MPRIS-compatible controllers. The daemon will then send a desktop notification when your batteries are low.
Typing earbuds -status will tell you all about the state of your earbuds, including battery percentages for both the left and right buds, whether noise reduction or touches are enabled, and even your ear temperature for both left and right ears! If a value can be changed, there's an option to change it. Type earbuds set equalizer dynamic to change the equalizer setting, for instance, or earbuds set tap-action spotify left to set an application to launch with a long tap of the left bud. The command even embeds scripts to add auto-complete to your chosen shell, so you don't need to remember all the parameters. It works brilliantly and mimics every function in the bloated and privacy lobotomized smartphone app.
Project Website
https://github.com/JojiiOfficial/LiveBudsCli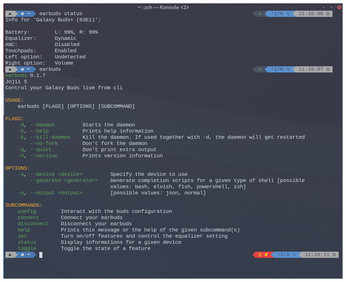 comments powered by

Disqus
Visit Our Shop
Direct Download
Read full article as PDF: