FOSSPicks
Giada
When it comes to music and audio software, we have several complex and comprehensive applications for sound generation and audio production, but there isn't much choice when your requirements are simple. One such simple task is triggering specific audio recordings (samples) at specific times. You could press play at the right time in Audacity, or you could set up a sequence of notes in an application like Ardour or Rosegarden. There aren't, however, many tools designed specifically to do this, although there are sampler plugins that get close. This is almost exactly the use case that hardware samplers were designed to address, and it's also the use case that the recently rebooted Giada has been designed to address.
Giada is a powerful audio file player that makes playing audio files and samples easy. At its simplest, you drag an audio file from your favorite file manager into one of the empty columns in the GUI, and almost instantly, an entry appears with options for play, record, mute, and solo, alongside buttons for loop configuration and effects. Click play, and it plays. It's just as quick to drop in an entire directory of recordings, and you're free to drop them into any of the empty columns you see in a new project. Click play next to any of them, and they'll play. Click on more than one at a time, and they'll play simultaneously. Each recording is also accompanied by a status box that shows the playback position, and you can tweak the sound with the volume dial or even add live effects with the FX button.
For a podcast or live theater production, this is all the power you need. Drag and drop a selection of files, save them as a project, and trigger them when you need them. But Giada expands on this to take the whole idea of audio playback further. For example, there are various loop and playback modes for each audio file that can repeat drum or melodic loops as needed, while synchronized to an overall tempo and even transparently resampled or pitch adjusted when the tempo strays from that of the original recording. Even more cleverly, from a right-click menu on the audio file, you can configure it to be triggered by a specific key on your keyboard or MIDI note, and the audio will start either immediately, or at the beginning of a bar if you've configured it to do so. This is where Giada transforms from a handy audio file player into a music composition tool, because you can then sequence when audio files, samples, and loops are played using the record button. This is exactly what aspiring DJs need as they play full tracks alongside tempo-synced loops and effects. You can even edit the audio files in place with an excellent embedded sample editor; if you want to be more ambitious with sequencing, the action editor can be used to create an entire song, complete with piano roll, velocity, and volume automation for programming software and hardware synthesizers. It's a brilliant application that scales from a simple player to an almost fully fledged Ableton-like DAW, without bringing your system to its knees.
Project Website
https://github.com/monocasual/giada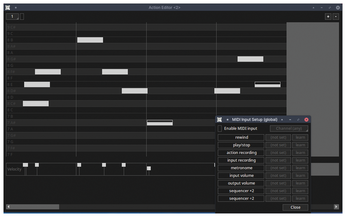 Evolution simulator
Thrive
Godot, the open source games development engine, has been getting lots of deserved support and coverage in the last year. It's doing a brilliant job helping people get into games development without getting themselves locked into a proprietary ecosystem, much like Blender is doing for 3D designers. Thrive is a game built with Godot that proves this progress is having a hugely beneficial effect on games development, not just in helping developers create games at low cost, but in helping games to be developed that might not otherwise be easily created. Thrive is a game about the evolution of life on an alien planet not too dissimilar to Earth, and some gamers think it's an idea not too dissimilar to Spore – a cult game published by Electronic Arts in 2008. The basic principle is that you help to evolve a single-celled organism into a race that can conquer the stars, in much the same way Civilization takes you from prehistory to the space age.
There are seven stages planned for the game, each corresponding to an evolutionary stage: Microbe, Multicellular, Aware, Awakening, Society, Industrial, and Space. As the game is under heavy development, only the earliest Microbe stage of the game is currently playable, but it does include tutorial sections, beautiful graphics, and already compelling gameplay. You start as a cell, which you navigate through the primordial alien soup. You absorb compounds as you cross them, trying to fill various bars necessary for life. You can then upgrade your cell to become a more complex organism. It's a great way to learn about how these basic building blocks of life could combine, especially when you start to see the environment and accompanying species change as a result of your progress. And the same is true of the project itself, where you can even hopefully watch the game develop from these proto stages into a fully fledged title.
Project Website
https://revolutionarygamesstudio.com/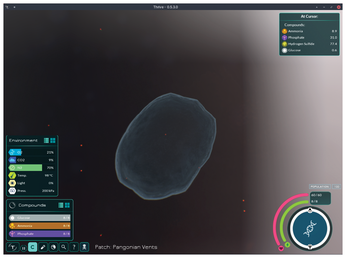 comments powered by

Disqus
---
Support Our Work
Linux Magazine content is made possible with support from readers like you. Please consider contributing when you've found an article to be beneficial.
---