FOSSPicks
Map buttons
Key Mapper
As someone who uses an older MacBook Pro with Linux natively installed, it's imperative that Apple's special Control and Option keys are mapped to work with Linux effectively. This is a rather arcane two-step process, first because you run the ancient xv command to divine the raw keycodes for those keys, and second because you enter those keycodes into an equally ancient xmodmap file to map those raw keycodes into key presses. As the x in both tools suggest, this process is unlikely to work with Wayland. Key Mapper is a Python application with a modern GTK+ front end that does all this easily and adds the ability to map buttons and keys from almost any input device. This is the clever part, because input devices can include joysticks and controllers, as well as keyboards, which you select from the device drop-down at the top of the window. With a device selected, you use the key pane on the right to press the input you want mapped before selecting from a drop-down list what you want it mapped to. This list is absolutely huge and includes all the XF86 shortcuts, as well as triggers, special keys, and touchpad controls.
If you're mapping a games controller, you can map its joysticks to mouse movement, the mousewheel, buttons, or a single joystick, complete with mouse speed. This is brilliant if you're building a Linux arcade machine, for example and want the joystick to control the mouse cursor while at the same time mapping some of the buttons to launch the games you want. This entire configuration can be saved as a preset for easy recall, and you can have as many presets as you need. Presets are useful if you want to step away from the computer, for example, and control it remotely, or if you switch keyboards between an Apple keyboard on the road and a more conventional keyboard when you're home. A background daemon is also installed and activated by default, and this takes care of the changing configuration, as well as making any necessary changes when you reboot. It works perfectly.
Project Website
https://github.com/sezanzeb/key-mapper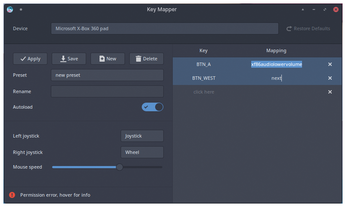 macOS shortcuts
comments powered by

Disqus
---
Support Our Work
Linux Magazine content is made possible with support from readers like you. Please consider contributing when you've found an article to be beneficial.
---