Literature management with Zotero
Tutorial – Zotero
Reference management software like Zotero helps you easily record and organize citations and create bibliographies.
Programs for managing technical literature, often known as reference managers, are important tools for students and scientists. For larger projects such as a master's thesis, you would find it hard to do without this kind of software.
Launched back in 2006, Zotero [1] is a powerful open source literature management program that harmonizes perfectly with LibreOffice and Microsoft Word. It is especially suitable for fields that do not usually use LaTeX for writing (i.e., the humanities, economics, health, and some natural sciences). A special version of Zotero, called Jurism [2], is adapted specifically for the field of law.
Zotero not only runs on Linux but also on macOS and Windows. It also supports mobile operating systems. Several (unofficial) apps for Android and iOS let you import and edit title data, including scanning ISBNs.
Quoting with Style
Zotero was originally created as an extension for the Firefox web browser. However since 2017, the software has been available as a standalone program. It can be used with browsers such as Firefox, Chrome, and Opera, as well as with office suites like LibreOffice and Microsoft Office. You do not need an account to download and use Zotero, but you will need one if you want to access cloud storage. Creating an account is especially worthwhile if you want to access your literature collection from several devices or work on bibliographies in teams [3].
The free basic account provides 300MB of storage in the Zotero Storage cloud. While this may not sound like much, it is sufficient even for extensive projects such as dissertations, as long as you only store bibliographic info. If you want to back up sources to the cloud in the form of PDFs, images, or other larger files, the free cloud storage is probably not enough. Upgrading to 2GB costs $20 a year, while you pay $60 for 6GB, and unlimited capacity is available for $120 [4].
Setting up Zotero
While you are unlikely to find Zotero in the official package sources, you should be able to install it without problems on most distributions. The easiest place to set it up is on Arch Linux and its offshoots like Manjaro, where you install it from the Arch User Repository (AUR).
Users can download Zotero directly from the project's homepage in the form of a tarball. To install, open a terminal window, change to the directory containing the downloaded file, and run the commands from Listing 1. The commands unzip the program to /opt/zotero/ and then link it to ~/.local/share/applications/ so that you can access Zotero from the application menu.
$ sudo tar -xjf Zotero*.tar.bz2 -C /opt
$ sudo mv /opt/Zotero_linux-x86_64 /opt/zotero
$ sudo /opt/zotero/set_launcher_icon
$ ln -s /opt/zotero/zotero.desktop ~/.local/share/applications
When first launched, the program wants to set up connections for the browser and LibreOffice. It's a good idea to install at least the Zotero Connector [5] browser extension right away. The program automatically opens the relevant web page in the system's default browser.
To use data synchronization via Zotero Storage, enter the info for your Zotero account. Go to the Preferences window, and choose the Sync tab. You'll need to enter your username or email address and password to set up syncing. If you don't have an account with Zotero yet, you can find the links for creating one here. You can also choose whether or not to upload file attachments to the Zotero cloud.
Importing Data
Using Zotero is intuitive. The first step is to search for literature on the Internet. Switch to a web browser, but leave the Zotero window (Figure 1) open. If the Zotero extension is installed, you will see the Zotero icon in the top right corner of the Firefox toolbar. In Chrome, you can unhide the icon by clicking on the extensions icon in the upper right corner.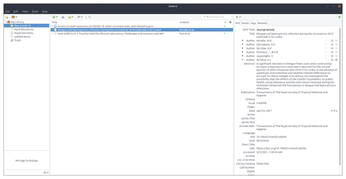 Use the Zotero icon to import bibliographic data. The appearance of the icon changes depending on what information the browser is currently displaying. An icon like a small sheet of paper indicates a web page without bibliographic information.
Zotero is even more helpful when you search the online catalog of a library. Use the catalog's search box to search for one or more terms, and as soon as the search results load, the Zotero icon in the browser changes so that it now looks like a small, yellow folder. This means that the software has identified several importable elements. As soon as you click on the icon, a small window will appear, listing the search results separately once again. Now check the titles you want to import and press OK.
Alternatively, import the publications one by one after you have looked at them more closely. Click on one of the search results in the library catalog hit list. Zotero then loads more detailed information about the publication. The Zotero icon now typically looks like a small blue book or a written piece of paper. This indicates that Zotero can import a single item, such as a book or magazine article.
To import the publication into your Zotero library, click the icon. A small dialog box appears in the top right corner (Figure 2), where you can instruct Zotero to place the publication in a specific collection or to tag it with keywords. If you do nothing, the dialog will disappear after a few seconds and the publication will be placed in your library, where you can add these options later. If the main program is not currently running in the background, Zotero offers to use the web service when importing. If you chose this option, a dialog will then prompt you to log in to Zotero.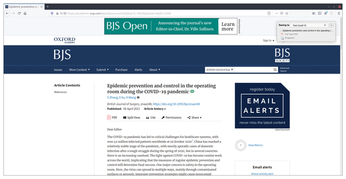 comments powered by

Disqus
---
Support Our Work
Linux Magazine content is made possible with support from readers like you. Please consider contributing when you've found an article to be beneficial.
---