Freehand writing and drawing
Virtual Whiteboard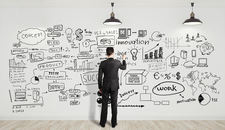 Xournal brings the whiteboard to the PC to aid in all of your online learning activities.
Over the past year, an increase in homeschooling has given an unprecedented boost to learning management, communication systems, and curriculum-based software. When using these online learning tools, a virtual whiteboard can help enhance learning.
Xournal [1], a note-taking, sketching, and journaling app, can turn your device into a whiteboard, letting you visualize content via a stylus or tablet. Xournal's workspace mimics a notebook page and offers a variety of tools, including a shape recognizer that recognizes geometric shapes as they are drawn. Not only can you take notes and make simple drawings, but you can also use Xournal for screencasts and real-time screen sharing during a video conference.
Installation
Xournal can be found in the repositories of all major distributions. For numerous Linux derivatives, there are packages for both 32- and 64-bit machines. In addition, the software also runs on various BSD derivatives.
After installation, you start Xournal conveniently via a launcher in your desktop environment's menu structure. Besides a conventional menubar at the top of the program window, you will find a two-line buttonbar for quick selection of drawing tools and attributes. The workspace below looks like lined notebook paper, which helps with placing your content (Figure 1).
To get started, go to Page | Paper Style to specify the workspace format. In addition to the default lined paper style, you can also choose graph, ruled, or blank paper styles. Depending on your printing needs, you can change the default US standard paper size (say, to DIN A4) via Page | Paper Size. To permanently save your settings, check the Apply to all pages option in each dialog box.
Tools
Xournal offers numerous tools for entering content (Figure 2). In the buttonbar, you will find the pen, eraser, highlighter, text, image, ruler, and shape recognizer tools. The shape recognizer tool recognizes geometric shapes as you draw them and converts the hand-drawn lines into clean lines.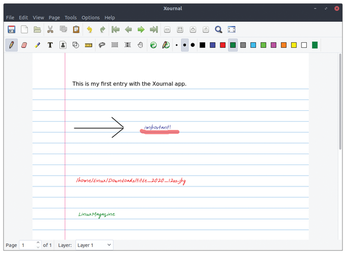 When using the text tool, first set a font via Tools | Font (Xournal uses its own fonts). To define the font weight, go to Tools | Pen Options. You can also set the eraser thickness in Tools | Eraser Options.
To select the color used by a tool, you can choose from the limited color options in the lower buttonbar or go to Tools | Colors for more options.
To select a portion of the workspace, you can use Select Rectangle and Select Region options. You can then modify the content attributes in the selected area. This comes in handy if you want to quickly modify the font color in a longer text passage, for example.
In principle, Xournal can use all available input devices to generate content. In addition to the keyboard for text input, you can use the mouse and, if available, a graphics tablet.
Xournal also can be used with the stylus and touchscreen found in some modern notebooks or older convertible systems. Under Options | Pen and Touch, you can set the stylus's pressure sensitivity or choose to operate the touchscreen without a stylus (using your fingers instead). In addition, you can specify which keys are used to quickly toggle between the input options.
Page by Page
To allow content to extend beyond the visible workspace, Xournal supports page-by-page content capture and modification. You can insert a new page at any point before or after the visible page with Page | New Page Before or New Page After. To insert the new page at the very end of the workspace, use the New Page at End option.
Similarly, you can delete a page via Page | Delete Page; you can only delete the page currently shown in the workspace. Xournal does not let you select multiple pages for deletion in one step. To scroll through the individual pages, either use the page count at the bottom, which you can use to jump across multiple pages if necessary, or navigate in the upper buttonbar using the arrow keys.
comments powered by

Disqus
---
Support Our Work
Linux Magazine content is made possible with support from readers like you. Please consider contributing when you've found an article to be beneficial.
---