FOSSPicks
Nyrna
Valve's Steam Deck is bringing a lot of needed attention to the Linux desktop and its associated applications, even when there's no direct gaming connection. Gaming sessions are run within something that Valve calls Gamescope, which sounds new but is actually a Wayland compositor that better allows for gaming integration within Linux. It's using Wayland with XWayland, but it's still a positive step towards more general Wayland acceptance and surely its eventual total replacement of Xorg. It's decisions like these, and Valve's decision to use Arch Linux as its SteamOS base, that are bringing Linux to wider attention. But we've seen other projects that are also trying to bring games' console-like features to Linux.
Nyrna is a brilliant little utility that must surely have been inspired by Valve's Steam Deck, because it implements a feature that Valve was still working on at the time of the announcement. This is the ability to suspend and resume games, much like you can on a modern games console such as the Nintendo Switch. It's most useful for games because they don't always have a convenient save position from which to suspend and resume your gameplay, and you want something instant if your attention is diverted. Nyrna does this but also does the same for whatever windows and applications you have open. It's built using Google's Flutter UI and features a simple user interface that makes the most of Flutter's flawless transitions. By default, it will list the applications and games it finds on your desktop, and you can simply click a green button alongside an entry to freeze it, freeing up its resources until you press again to resume the process. The action is almost instant in both directions and beautifully animated with your chosen target floating into and back from your panel like a genie into and out of a bottle. But most importantly, it works flawlessly and quickly becomes one of those tools you wonder how you ever lived without.
Project Website
https://github.com/Merrit/nyrna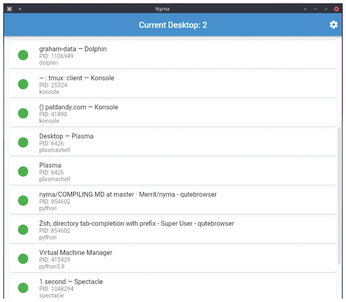 Dropbox client
Maestral
Dropbox was revolutionary when it first appeared in 2007. The cloud storage it offered was something new, and the convenience of having a directory shared with cloud storage that would then synchronize itself with other machines was alluring. Combine this with the gamification of inviting new users to add to your personal storage capacity, and many of us Linux users were hooked. Even though the whole platform was closed and proprietary, the relatively open API and a choice of third-party Linux clients meant we could all pretend Dropbox would eventually support Linux as a Tier 1 system. But the lack of Linux progress and an alleged hack in 2012 (widely reported in 2016) that exposed 68 million user passwords dampened our enthusiasm, especially in what was now a competitive market.
But Maestral could just do enough to reboot our enthusiasm for Dropbox. It's a completely unofficial client but links to your account via an easily generated API key that allows access to the public API for your account. The most impressive thing about the project is that there's both a command-line tool and a GUI, with the command-line tool able to perform all the same actions. There are options to pause and resume syncing, start or stop the background daemon, add files and folders to be ignored or included, and desktop notifications. The GUI is brilliantly designed and is very clear and easy to use. Its panel application icon has a right-click menu that mirrors many of the same functions too, and it's by far the best client we've ever used for Dropbox. But the best thing about it is that it requires very few resources and won't needlessly eat CPU cycles, which can't be said of the other clients for even some of Dropbox's competitors.
Project Website
https://github.com/SamSchott/maestral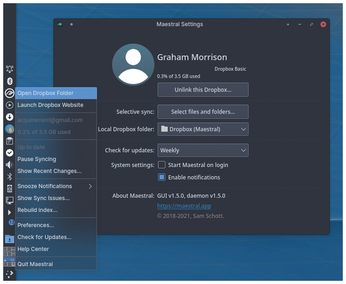 comments powered by

Disqus
Visit Our Shop
Direct Download
Read full article as PDF: