Synchronize and back up data with FreeFileSync
Always in Sync
Many users still fail to back up important data. FreeFileSync automatically synchronizes specified folders to multiple storage media on demand.
Backing up data is still one of the most unpopular tasks for many users, even though it is no longer necessary to laboriously install and configure special backup programs to do the job. In addition, you can save yourself the time-consuming task of backing up entire disks or partitions if only some data has been modified.
Linux offers the right solution for all conceivable backup and synchronization scenarios. If you only want to keep small or medium-sized datasets synchronized on two data carriers, FreeFileSync [1] is a mature free tool.
Installation
FreeFileSync can be found in the software repositories of various popular distributions and can be conveniently installed on, for example, Arch Linux, Fedora, openSUSE, Mageia, and PCLinuxOS using the integrated package managers. For other distributions, you will find a generic tarball on the project's website. After downloading and unpacking the roughly 25MB tarball, you will find yourself with a roughly 27MB binary package that installs the software on your system.
To do this, Setup opens a small dialog with just three options. Besides the installation option for multiple users, it prompts you for the installation path and creates a starter on the desktop (Figure 1). You can change each specification, if necessary, by entering the corresponding line number, or simply accept the default values by pressing the Enter key.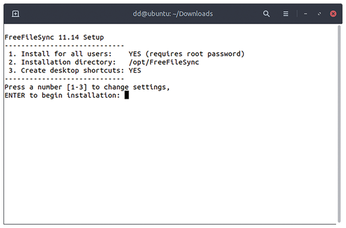 The routine creates two starters on the desktop as well as in the menus. While the FreeFileSync entry starts the application for manual synchronization runs, the RealTimeSync option opens a separate window where you can configure automated synchronization runs.
Donation-Supported Version
In addition to the standard version, the developers also offer a donation-supported version. It contains some additional features that the free version lacks, as well as a limited update right. After paying an amount of your choice via PayPal, credit card, or giropay, a download link to this version is mailed to you. The amount donated determines the time period in which you will receive free updates: For every EUR10 (~$12), the developers grant you six months of free updates. This gives you two years for a donation of EUR40 (~$46), for example.
You will see functions that are only included in the donation-supported version of FreeFileSync, such as parallel copying and email notification, in the standard version's configuration dialogs as links that take you to the project website for more detailed info.
Manual Sync
For occasional synchronization tasks, such as those that occur in combination with removable media, simply use the manual variant of the tool, which you call via the FreeFileSync starter. The routine first opens a program window that takes a bit of getting used to, with two empty list areas predominating. After the initial configuration, the contents of the directories you want to synchronize appear here. To the left of this you will find two further segments arranged vertically. They contain the configuration profiles, which are also empty on first launch.
comments powered by

Disqus
---
Support Our Work
Linux Magazine content is made possible with support from readers like you. Please consider contributing when you've found an article to be beneficial.
---