Sparkling gems and new releases from the world of Free and Open Source Software
VPaint
The best drawing tools seem to have the word "paint" in their title. There's the famous Deluxe Paint that helped sell a million Commodore Amigas in the 1980s, and regular PCs in the 1990s, to such an extent that its pixelated Tutankhamen and Venus images are now synonymous with the dawn of high-quality graphics composition on home hardware. Deluxe Paint also helped many of us adapt to what might have been our first touch of a mouse, left-clicking to draw and drag those pixels across our flickering CRT televisions. Later came Photon Paint with 3D modeling and texture mapping and then even CinePaint, which was an early fork of Gimp with real movie-making credits to its name. And now we have VPaint.
The V in VPaint is for vector, which means that, rather than drawing in the pixels of Deluxe Paint, you draw in vectors, the dots and lines between different canvas locations. It's a very different kind of drawing application than the other well-known vector drawing tool, Inkscape, because VPaint feels instantly creative. When you first launch the application, you can right-click your mouse and drag the pixels across the screen just as you could with Deluxe Paint, but VPaint is doing lots of things in the background. Depending on your skill, the end result will be either a natural-looking thick line, from one point to another, or a meandering, imperfect scrawl from which your therapist will likely draw conclusions about your childhood. Either way, it won't look like a typical straight line or pixellated wobble. Peak behind the canvas, and all the lines, shapes, and curves you draw are vectors. You can see this most evidently with the Sculpt tool which, when selected, can be used to modify your doodles by dragging the cursor across the lines you've made, stretching them into new locations. The cursor will stick to a certain line that can then be pulled away from its original position. If there's more than one line at the point you've chosen and other lines connected within a circle of influence, all these will be dragged too, with the amount of deformity being relative to the distance from the original point. It's like pulling at the threads in a woven fabric.
For more advanced editing, there are layers to keep different parts of your illustrations separate from other parts, and it's also easy to group elements together and raise and lower them within the object hierarchy of the image. This is all great for drawing and design and common to other drawing tools, but drawing isn't the main reason for using VPaint. That's because it also does animation. This is only noticeable if you wonder what the small chain of cells represent in the bottom of the main window. These are to hold the various states, or keyframes, you want your animation to progress though. Vector images are ideal for this because a formula can easily be used to calculate the exact tweening values between frames, making transitions between one keyframe and the next always as smooth as possible. This is how all modern animation is generated and even has a lot in common with another ancient Amiga original, an application called Fantavision. VPaint is still in the relatively early stages of development and is currently classed as a prototype ahead of a potential commercial release, but it's being released under the Apache license, which means development should continue regardless.
Project Website
https://github.com/dalboris/vpaint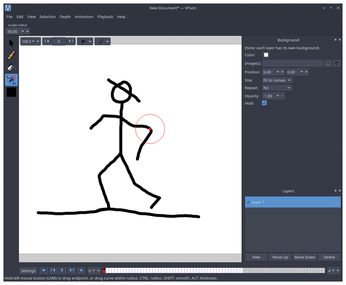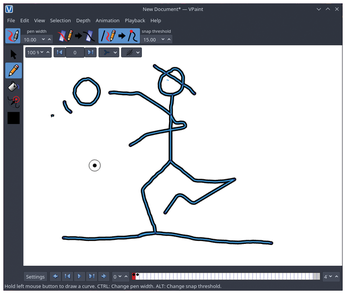 Strategy game
UnCiv
Sid Meier's Civilization games are some of the best games ever made. They combine empire building and resource management with finely balanced strategy – and even some historical and economic contexts that make sense today. It's no surprise that remakes and other games inspired by them often grace these pages. The original games span the entire modern gaming epoch, from the pixelated Amiga graphics of the early 1990s to the retina displays of iPads, Android phones, and consoles in the current era, which means there's an aesthetic to suit every remake. UnCiv is one of the best, taking inspiration from the current, penultimate Civilization release, Civilization V, originally released in 2010 but still very much alive.
However, the inspiration that UnCiv has taken from Civ V isn't in the graphics but in the gameplay. Rather than the beautiful isometric 3D graphics of the original, UnCiv goes back to the pure tiles of the original, albeit with lovingly created cartoon-style artwork. This doesn't look as good as a modern game, but it does mean UnCiv will run on almost anything, from an Android phone to your Linux desktop, and even the Raspberry Pi, thanks to some recent code patches. What you get is a brilliantly playable strategy game set within a hexagonal map with the same historical theaters, warriors, settlements, specialities, and natural resources, and all the statistics, you could ever want. All of this is being lovingly recreated rather than reverse engineered, which means it all feels the same but similar to the original, which is a good thing because the IP of the original games are still likely being protected. This means UnCiv is a game for Civilization fans that can be played guilt free on your favorite operating system, regardless of whether you've played the originals or not, which we highly recommend doing.
Project Website
https://github.com/yairm210/Unciv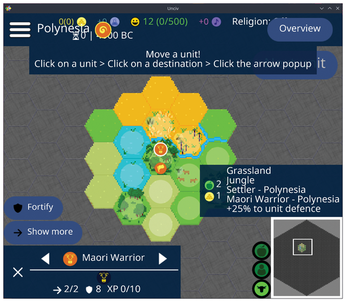 comments powered by

Disqus
---
Support Our Work
Linux Magazine content is made possible with support from readers like you. Please consider contributing when you've found an article to be beneficial.
---