Sparkling gems and new releases from the world of Free and Open Source Software
Sioyek
There are many PDF viewers for Linux and several of them are good if not exceptional. Okular, in particular, is one of the best we've used, because it's one of the few that will open most PDFs, offers sensible scaling, multiple page views, and the ability to annotate PDFs in a way that can be shared with other people. If you need to manage a library of PDFs, then the ebook editor and manager, Calibre, is another excellent and more ambitious choice. It's particularly good when you're researching a subject and need to search across several publications, although Calibre's PDF-viewing capabilities are little more than perfunctory – which is where Sioyek can help. Sioyek is a new PDF reader developed specifically to help better manage and access academic papers, but it's equally adept at beautifully rendering PDF content, especially if the files contain formulas, and for searching across a collection.
Almost like a Vim PDF viewer, Sioyek is controlled entirely from the keyboard with a small command console that appears when you type something. You can quickly search across any file you've previously opened, as well as across the table of contents and even referenced figures and bibliography entries when they're not in the table of contents. There are commands for inserting a bookmark, so you can quickly get back to the same section after chasing another reference, and a more formal bookmark manager which can be used globally to reference sections in any document. You can highlight a section of text, which is then separately searchable, and even open another reference while the original document is still open. It's an excellent application, with both light and dark modes. While it's ideal for academic searches, it's also perfect as your default PDF reader.
Project Website
https://github.com/ahrm/sioyek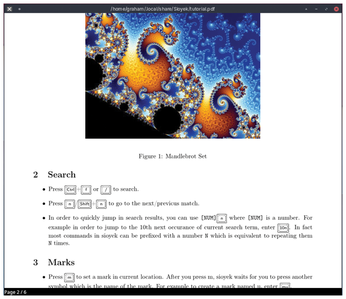 Audio visualizer
projectM
There are few time-wasting utilities as satisfying as a music and audio visualizer. And while they can turn what should be a purely listening experience into a gluttonous audio/visual feast of migraine-inducing proportions, they can equally enhance the listening experience, especially at a party or at a live performance. But even on the humble desktop, they're a lot of fun, and projectM is the best visualizer we've come across in years. A music visualizer is really any kind of visual effect that attempts to graphically sympathize with the sound that is pushed through it. They usually involve lots of bouncing lines syncopated to a beat; or psychedelic, pulsing wheels of color turning against one another, or everything combined. They can be an old-school Amiga demo, part tech demo, and also an experiment in just how many millions of particles your GPU can push onto the screen. Their success is entirely subjective and often linked to the listening environment and motivations for using one. Which is why they're often configurable.
projectM does all of this and much more. It can run as a standalone application with selectable input, as a PulseAudio effect, as a plugin from the Kodi media center, and as a library to use from your own projects. The whole project itself is a reinterpretation of MilkDrop, a relic visualizer for the old Winamp Windows music player, and it uses a library of preset files to create the visual effects. These files tell the pixel shaders what to do using various equations and parameters, and projectM includes those from MilkDrop as well as an enormous library of its own containing 41,000 other presets. There are controls to switch between these and also a random preset, as well as the ability to create a playlist of presets and lock to the currently selected preset in place. You can also increase and decrease the beat sensitivity so that you can ensure the pulsating blob of pixels is always in time to your music. It's a brilliant distraction and perfect for parties (but not great with a hangover).
Project Website
https://github.com/projectM-visualizer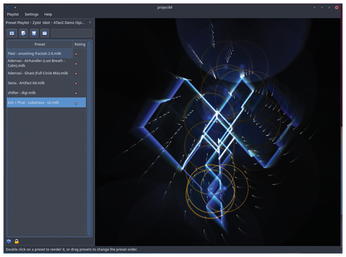 comments powered by

Disqus
---
Support Our Work
Linux Magazine content is made possible with support from readers like you. Please consider contributing when you've found an article to be beneficial.
---