Tracking school information with AlekSIS
Keeping the Books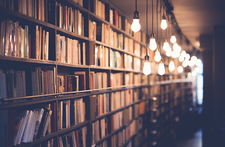 In many classroom settings, paper grade lists and the good old class register are still the rule. The AlekSIS project offers a 21st century solution for small schools that want to go digital.
AlekSIS, a free school information system, aims to drag schools into the digital age. Currently in a functional state and ready for production use, AlekSIS [1] is a direct competitor of other tools with similar school-management features. However, because it is free software, AlekSIS helps you steer clear of the dreaded vendor lock-in. AlekSIS's creators have a declared goal of blowing the commercial solutions out of the water.
Designed by teachers in Germany, AlekSIS was originally developed for German high school settings, but the basic features, such as schedules, student and staff profiles, class rosters, and attendance tracking, are universal features of classrooms everywhere. AlekSIS offers a user interface in English and complete English versions of the AlekSIS Handbook and website.
Most large school districts in the English-speaking world are already using software for tracking students and classroom business, but many small private schools and charter schools, as well as training facilities and other independent institutions, are still tracking their classroom business on paper or using rudimentary tools that lack integration. In these settings, AlekSIS offers a sensible alternative.
Web-Based Access
Because some classrooms today still do not have a computer, the AlekSIS team knew from the outset that the software would have to be easy to use on mobile devices such as smartphones. As a result, AlekSIS's central interface is based on the principle of web-based access, with the web interface adapting to the displaying device. As a result, AlekSIS works just as well on an iPhone as it does on an Android tablet, a laptop, or a desktop computer.
This capability, known as a Progressive Web Application (PWA), offers more than is apparent at first glance. Because AlekSIS exclusively relies on a browser, it accommodates the capabilities of many operating systems to generate ad hoc dynamic mini-apps with their own icons from websites. If you want to have your own timetable (Figure 1) as a widget on your smartphone's main screen, AlekSIS is the way to go.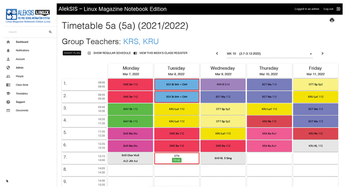 User-Friendly
AlekSIS places a high bar for clarity and ease of use. Because students from grade five up need to be able to use the interface just as easily as their teachers, the AlekSIS interface has been deliberately kept very simple. The menu is located on the left edge of the screen and gives users direct access to all of the software's functions. AlekSIS does not come with color schemes. If you need them, you can add them via the configuration. You can also adapt AlekSIS's appearance to match existing specifications (e.g., to store a specific logo in the software). Adhering to the form follows function principle for all the GUI adaptations, AlekSIS offers an easy-to-use, intuitive interface that meets modern standards in terms of user interface/user experience design.
Personnel and Room Management
Anyone who has ever had to deal with the administrative inner workings of a school will quickly realize where AlekSIS is headed. The solution aims to enable extensive digitalization of schools. Managing teachers and students with, at least limited, self-service options is the first step.
AlekSIS lets you create a teacher database with each staff member's information using a large number of different parameters for each teacher. You can enter the subjects taught by each teacher, as well as access a calendar that lets you block periods in a weekly schedule when the teacher is not available. In addition, teachers can manage their absences in AlekSIS.
If required, AlekSIS can be linked to an existing LDAP or Active Directory, from which it then sources the user data. Otherwise, the solution maintains a local user database.
Just as it manages people, AlekSIS manages rooms and courses or classes. Rooms and classes need to be maintained centrally by the admin office, but AlekSIS cleverly combines the information it has already collected. After you create a class, you can assign students and teachers for individual lessons to it. In turn, a classroom management element can be linked with a teaching unit once it has been created by the admin office. Bringing the classroom and personnel elements together allows comprehensive mapping of the day-to-day schedule of everyone at the school.
comments powered by

Disqus
---
Support Our Work
Linux Magazine content is made possible with support from readers like you. Please consider contributing when you've found an article to be beneficial.
---