Rocky Linux looks for a place in the enterprise
SIGs
Rocky encourages users with similar interests to gather together online to share solutions and ideas. These Special Interest Groups (SIGs) bring diverse viewpoints and energy to the Rocky project. Rocky has SIGs for Linux kernel, storage, virtualization, desktops, alternative architectures, high-performance computing, and legacy systems. The desktop SIG works on alternative versions for Gnome, KDE, and Xfce. The alternative architectures SIG is hard at work with a version of Rocky for the Raspberry Pi. Other SIGs specialize in containers, hyperscale, and embedded systems.
The Rocky team hopes the SIGs will be more than just chat groups, with several working on alternative spins of the Rocky distribution to support their special interests. High-performance computing (HPC) is a particular area of interest for the Rocky team. HPC systems require extensive testing and tuned-up performance, but at the same time, a massively parallel HPC system can include hundreds (or even thousands) of OS instances, which gives a competitive advantage to systems that are available at a lower cost. CentOS was once a favorite for many HPC users, and Rocky is trying to capture that niche. Rocky creator Greg Kurtzer has a long history with HPC – he also created the Singularity/Apptainer container system for HPC – and CIQ is heavily invested in supporting the HPC space. CIQ's HPC offering includes the Fuzzball (coming Fall 2022) federated computing platform, which is designed to "orchestrate workflows, services, and data globally across data centers while maintaining supply chain integrity from on premise, to cloud, and to the edge."
Community Matters
The Rocky project is officially owned by Rocky Enterprise Software Foundation (RESF). RESF is a public benefit corporation owned by Rocky creator Greg Kurtzer designed with a system of checks and balances to prevent co-option. The community hangs out on a Mattermost chat platform [4] (Figure 3). Currently over 7,700 members are registered on Rocky's chat site, not including users who connect through IRC. Rocky also supports a collection of public forums [5] for users with more general information on Rocky and related topics.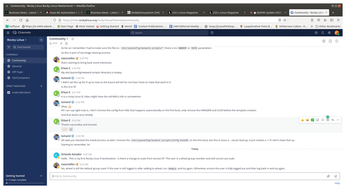 To underscore its support for community, the Rocky team has adopted a charter, which is posted online at the Rocky forum. The Rocky Linux charter comes with a statement of values, which includes the following:
Be practical. As open source advocates, our inclination toward solving problems is to use tools that are themselves permissible open source, but the best practical solution to a problem may preclude that. We use the right tool for the right job.
Be reasonable. Respect is given and trust is earned. Input from all contributors are valued, and all perspectives are sought after and considered. Knowledge and righteousness does not follow seniority.
Team ahead of self. Sycophants are not valuable to an organization, but neither are contrarians. We respectfully vocalize our concerns but pull together to drive forward once a decision has been reached.
Enable the enterprise community. While we are starting with creating a stable downstream enterprise distribution of Linux, our goals are much broader, including attention to the needs of special interests, project hosting, education, collaboration, workshops, meetups, and individuals.
Consider the human. Rocky Linux is developed and supported by a wide group of diverse individuals from all walks of life. We are strictly apolitical and will always assume the best intentions of others.
These values will take the Rocky project a long way as they seek to build a community around their free enterprise Linux.
Conclusion
Rocky does everything RHEL can do, and you don't have to pay for it unless you want support. The Rocky team knows that their mission depends on efficient processes and a strong community, and they are investing heavily in building a process that runs well. The Peridot build system is a big part of that investment. Peridot makes it easy to put out a custom Rocky spin if you have a special need, but before you reinvent the wheel, check out the SIGs at the Rocky chat site – you might find a SIG with a similar vision that would be happy to help with your efforts.
This article was made possible by support from CIQ through Linux New Media's Topic Subsidy Program (https://www.linuxnewmedia.com/Topic_Subsidy).
comments powered by

Disqus
---
Support Our Work
Linux Magazine content is made possible with support from readers like you. Please consider contributing when you've found an article to be beneficial.
---