Wild Dogs
Welcome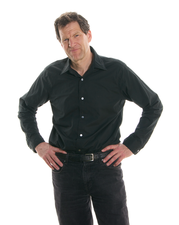 It is easy to write columns on the scary and annoying stuff, which seems to happen every day, but it is perhaps more important to point out the positive things when they happen, and the Ethereum Merge looks like a very positive thing.
Dear Reader,
It is easy to write columns on the scary and annoying stuff, which seems to happen every day, but it is perhaps more important to point out the positive things when they happen, and the Ethereum Merge looks like a very positive thing.
As I have often mentioned in this space, the tech industry has a way of releasing problems on the world that behave a little like invasive species – stirring up lots of trouble because the indigenous environment doesn't have any natural defenses. The motivational speakers call this "disruption" and warrant that it is a very good thing. "We'll fix any problems created by the new tech with other new tech, which we'll invent later," we tell ourselves. To be fair, a little disruption is sometimes helpful, but when the environment these invasive technologies get released into is our real environment (as in, the place where we live), the limitations are less forgiving. Crypto mining is a good example of a technology we unleashed on our environment without any kind of plan.
As we described back in the May 2022 issue, "Bitcoin mining alone consumes approximately 91 terawatt-hours of electricity per year. A single US home uses approximately 11,000 kilowatt-hours per year, which means that Bitcoin mining consumes as much energy as 8 million homes – more than seven times the total amount used by Google – and that number is growing every year as Bitcoin gains popularity. According to a recent study, if you take the total energy cost of Bitcoin mining divided by the total number of Bitcoin transactions, every Bitcoin purchase has an energy cost of over $100 – even if you're just buying coffee or flagging an Uber." [1]
I mention this quote to provide the context that I believe was missing from the stories in the popular press announcing that the Ethereum crypto community has completed what they called the Merge – their migration to a new and more eco-friendly crypto-mining model. Ethereum started out like Bitcoin, with an incredibly wasteful proof-of-work mining model that was never intended for a large-scale global currency. Proof-of-work is an official-sounding euphemism for a frenzy of massive GPU-laden server farms all over the world simultaneously racing to validate the same crypto block. The proof-of-work model is like a field filled with thousands of wild dogs; when you throw a bone into the middle of that field, all the dogs chase after it.
As far as anyone can tell, Bitcoin, allegedly the child of an absent and mysterious creator, appears to be stuck with the lumbering proof-of-work model, but the Ethereum community has made a concerted effort to solve the energy problem, and they have been laboring for some time to transition to the far-more-efficient proof-of-stake model, which they estimate could save an estimated 99 percent of energy costs. Whereas Bitcoin consumed more energy than Google, the proof-of-stake version of Ethereum will use less than a single music video. According to the Ethereum website, people around the world consumed 45 times more energy watching the "Gangnam Style" video in 2019 than the proof-of-stake Ethereum uses in a year [2].
It is worth pointing out that other eco-friendly cryptocurrencies already exist. (For a list of the most sustainable cryptocurrencies, see the LeafScore website [3].) However, these other sustainable cryptocurrencies tend to operate on a much smaller scale. Ethereum is huge – arguably the second biggest cryptocurrency after Bitcoin, and its more versatile design means that it could easily surpass Bitcoin sometime in the near future.
The governance of something like the Ethereum protocol is quite complicated. Although it is all about money (it is money), in many ways, the organization is more like an open source project, with a group of core developers and several other tiers of contributors participating in various ways [4]. Switching the validation model from proof-of-work to proof-of-stake must have been a monumental effort, requiring a lot of people to leave their comfort zone but still stay together as a community. To accomplish the transition, they had to agree on all the details of their proof-of-stake design, launch a separate proof-of-stake blockchain to test and perfect it, and then merge this new chain with the existing proof-of-work blockchain (which is why they call this process the Merge).
It all looks good so far, but we're still early in Ethereum's new era. Complications can happen, and they are certainly not out of the woods, but the Ethereum community deserves attention and thanks for helping to tame the wild dogs running loose in the garden.
Editor in Chief, Joe Casad
comments powered by

Disqus
---
Support Our Work
Linux Magazine content is made possible with support from readers like you. Please consider contributing when you've found an article to be beneficial.
---