Simple diversions: BurgerSpace and Enigma

Productivity Sauce
Jan 16, 2009 GMT
There are many ways to boost your productivity. One of them is to take a break every now and then and play a quick game. This can help you to relax and take your mind off the task you are working on. If you are looking for a game which can help you with that, then you might want to try BurgerSpace or Enigma.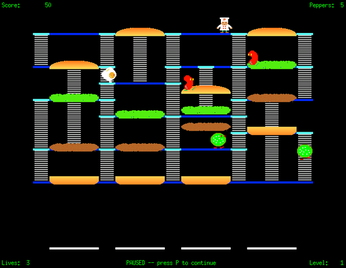 BurgerSpace is a clone of a 1982 Japanese arcade game called BurgerTime. The game play is dead simple. You control a chef a who must make burgers by stepping repeatedly on the ingredients until they fall into place. Besides that, you also must avoid evil food items. Your only weapon is a pepper shaker which you can use to temporarily blind evil food items, so you can escape them. Use the arrow keys to move the chef, the Ctrl key to throw pepper, and P to pause and resume the game. Crude graphics, beep-type sound effects, and simple game play make BurgerSpace an excellent retro game to brighten up your day.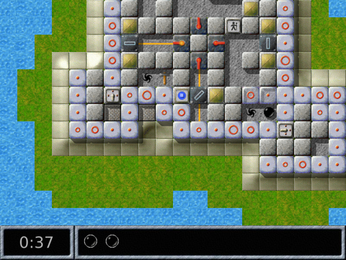 Enigma is probably one of the most popular and addictive puzzle games on Linux -- and deservedly so. It has all the attributes of a high-quality puzzle game: slick graphics, simple yet challenging game play, and a huge number of levels. What sets Enigma apart from other puzzle games is that it requires not only some intellectual skills, but also a lot of dexterity. The purpose of the game is to locate and uncover matching pairs of Oxyd stones by touching them with a black marble ball. This may sound like a doddle, but it most certainly is not. The marble ball is controlled by the mouse, but the tricky part is that the ball adheres to the laws of physics, which you must take into account when moving the ball. Managing the ball takes some practice, so don't be surprised if in the beginning it moves like a drunken sailor. Luckily, the first couple of levels are not so difficult and they give you an opportunity to master your ball controlling skills. For many puzzle games, when you've solved the level, you don't come back to it: what's the point of solving the same puzzle again anyway? But in Enigma, you can do the same level again and again to perfect your ball controlling skills and beat your own time record. Enigma is a fantastic puzzle game, and you can easily spend hours trying to solve a particularly tricky level. Once you've mastered the basics, make sure to check the game's manual for additional info, tricks, and even spoilers. There is also a Web forum dedicated to Enigma's tips and tricks.
comments powered by

Disqus

Issue 270/2023
Buy this issue as a PDF
Digital Issue: Price $12.99

(incl. VAT)